Axosoft Customer Portal
Give your customers access to the development process.
Give your customers a go-to place to track and report their own incidents with Axosoft Help Desk's Customer Portal. When your team integrates Axosoft Help Desk with Axosoft Scrum, Axosoft Bug Tracker and Axosoft Wiki, the portal will also allow you to share specific project backlogs, releases and wiki pages.
Why use a Customer Portal?
The Customer Portal, at its core, lets individuals create and edit tickets without an Axosoft account. These users will usually be your customers, but may include other stakeholders like beta testers, clients and so on.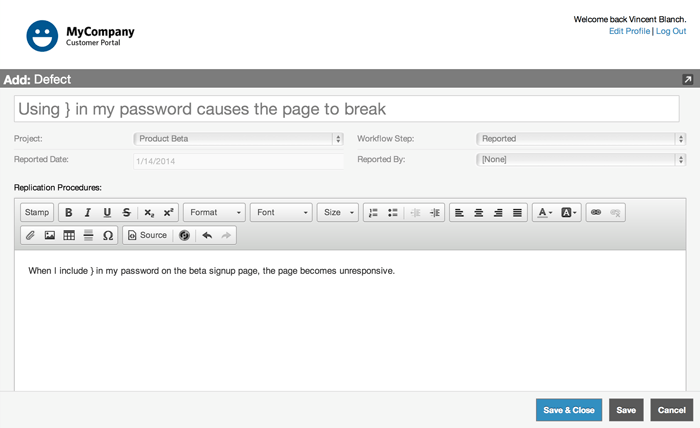 The other major component of the feature is its ability to publicize select development information. You can set specific projects, releases and wiki pages as public in your portal, or for make them visible to customer accounts only. This visibility can be very valuable when you need to keep your customers and stakeholders informed about key projects.
Configure security roles for customers
In order for customers to access your Customer Portal, they will need to be set up in your database and permitted to log in to see the items shared with them. You can do this manually within Axosoft or allow customers to register themselves with your approval.
Your team can quickly configure portal security roles to control what Customer Portal users can see and do. An unlimited number of roles can be created, so parameters can also be set for anonymous (not logged in) users, basic customer roles that only submit tickets, and a tester who can also view your beta project backlogs.
Revealing your backlog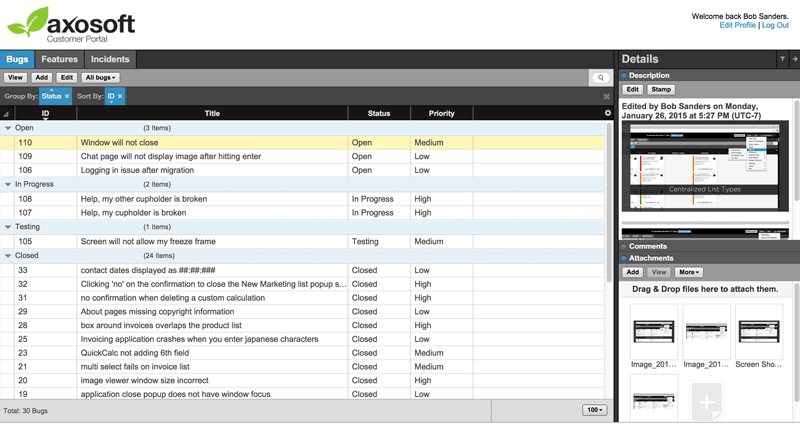 There are a variety of ways to modify Customer Portal, so customers are only seeing and submitting tickets for items they are related to. Your team may make a public product backlog available as a roadmap of where development is headed, solicit votes from portal users on what they want to see most, or to present release notes in the form of items.