Guide your user stories, defects and incidents through intelligent, automatic processes you design with Axosoft workflows. Incorporating your backlogs, work logs, notifications and user roles into our workflow system or "swim lanes" is the key to shipping your software Axosoft.
Workflows for any situation
Axosoft comes with default workflows to help your team get started, but you can modify or create new workflows that fit your needs with a variety of aspects:
Use role-based security to control who can move items between workflow steps.
Prompt users to update their work logs when an item changes workflow step.
Create unique workflows for each item type or group of project items.
Change an item's field templates based on workflow step.
Send email notifications to relevant users when an item is moved to a new step.
Illustrate your workflow and the current state of your backlogs with Card View.
Workflows can be simple processes that lead items from New In Progress Done, or they can be more complex with a series of variables. This adaptable workflow system makes it especially easy to adopt Scrum development processes and address your team's needs.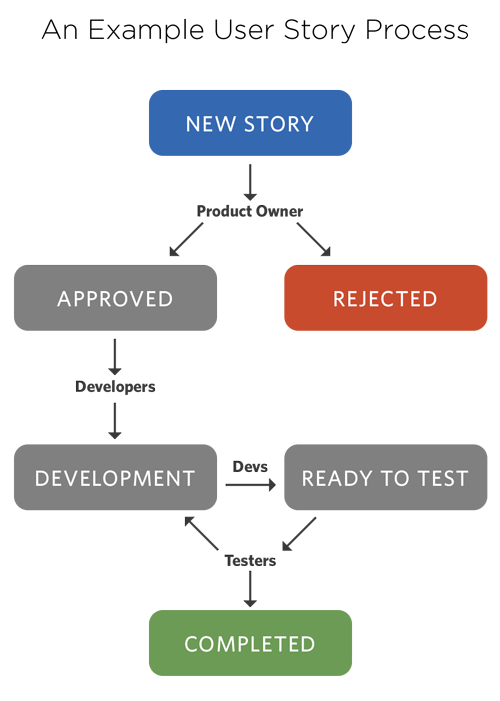 An intuitive workflow editor
A centralized workflow manager lets your team see all of your workflow processes, organized by item type. From here users can add, edit and activate workflows by dragging steps in the order your team needs.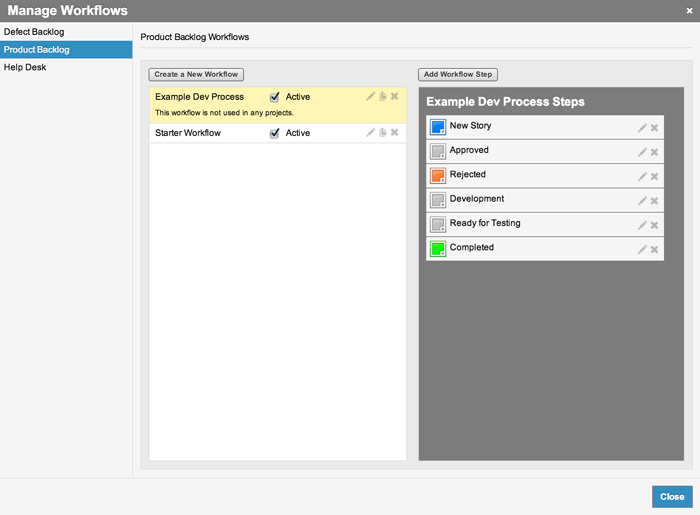 Powerful process automation
Axosoft's workflow customization capabilities allow your team to create any system that fits their needs. At the most basic level, you can control which user roles are able to move items between workflow steps. If your team would like more capability though, they can also send email notifications to key players or customer contacts when an item advances through the workflow and update the item's status, percent complete or remaining estimate at the same time.
Advanced options include changing an item's field template on step change—appropriate when an user story is ready for testing and needs new fields relevant to QA, for example. You can also force the developer to make a work log entry and adjust subitems' or parent items' workflow steps accordingly.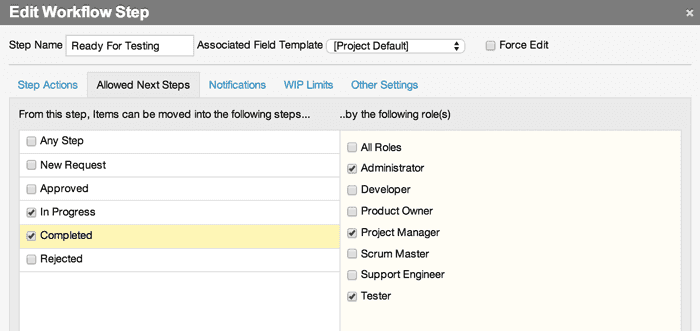 Axosoft Products that use Workflows and Automation