Visual Kanban board
Axosoft's Card View brings maximum visibility to tracking your sprints & releases.
A table full of data isn't enough to know how your team is doing. To illustrate how your user stories, defects and incidents are moving through your processes, Axosoft features a planning board tool that turns your backlog into draggable cards organized by workflow step. If you practice Kanban principles in your development, this Card View is a fantastic way to manage your sprint and release backlogs.
So what are our Kanban item cards?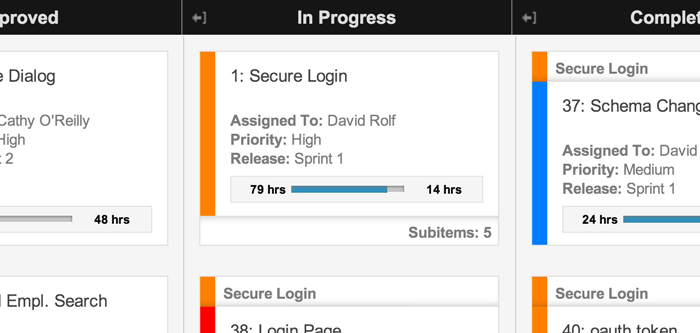 Axosoft's item cards enable teams to get key information at-a-glance. Any user can instantly determine how user stories are related, who they're assigned to, the priority level and more. If your team has certain details they would like to quickly absorb, the cards can be modified to reflect their priorities. Need to indicate severity on your defects? Change the color strip to show your configured severity levels. Want to have your incident cards display customer contact information? That's easily included as well.
Give your projects more dimension
There's no learning curve to start using our Kanban board. Axosoft's Card View can be used just like the default workspace grid, so your items still respond to the same keyboard shortcuts, grouping/filtering actions, drag and drop assignments, and automated workflows. As a visual tool, Axosoft becomes a great asset for development reviews, continued backlog management and release planning.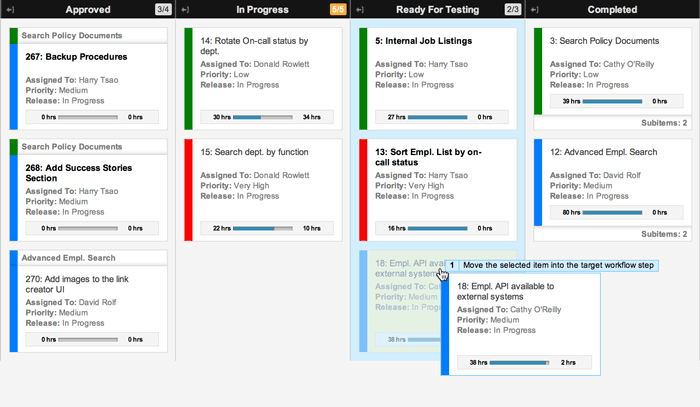 Your custom workflows also factor in here. While you drag items from one workflow step to the next, Card View will adhere to the security roles you've configured. On some teams that may mean only testers and project managers can move item cards out of the testing step, for example. And as you'd expect from a Kanban board, Axosoft's WIP limit options are front and center.