The #1 Scrum Software
Effortlessly manage product backlogs, releases & sprints in a tool your team will love to use.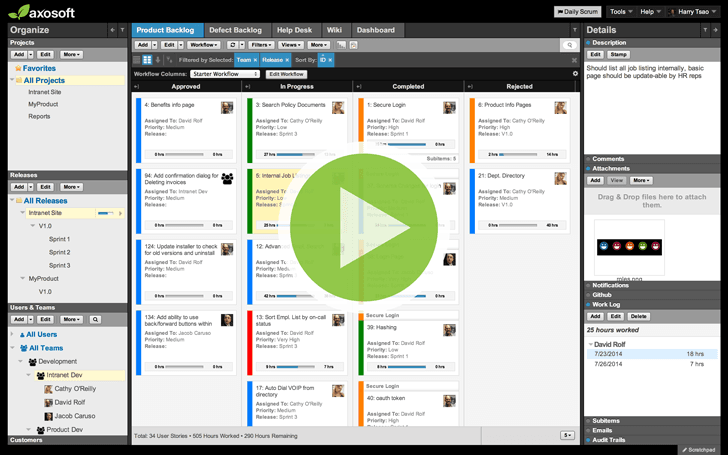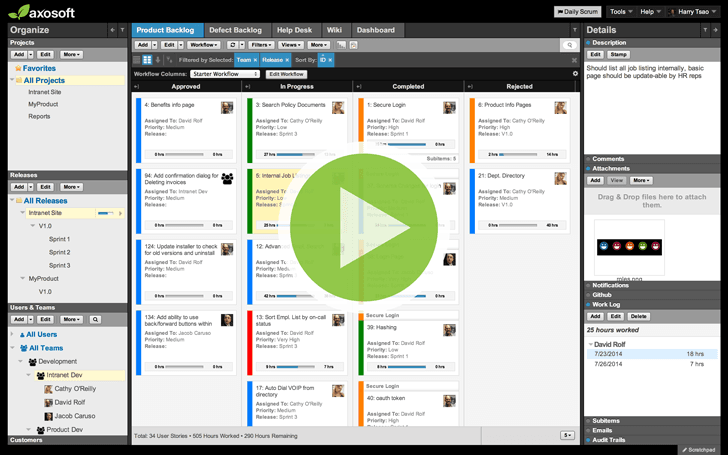 Plan & manage
your product backlogs
Quickly add new user stories with the right details, and organize them into projects, releases, and sprints.
Define & visualize
your process
Adapt Axosoft to your established workflows, and track progress on our versatile Kanban board.
Collaborate, measure,
ship on time
Our signature Daily Scrum mode and intelligent burndown charts keep everyone on pace to make your ship date.
Meet the rest of the
Axosoft Product Suite
As your team grows, you may need more than a product backlog. That's why we've developed a whole suite of tools that work together to help your team be a leaner, meaner Scrum machine.
Scrum: Our Favorite Framework
If you haven't noticed yet, here at Axosoft, we believe that Scrum is the best agile development method for building software. This awesome, adaptive framework has helped countless agile teams develop better software, faster, while lowering cost of development. It can do the same for your dev teams as well.
That's why we have created a lot of free, easy to understand materials to help you and your organization get started with Scrum, starting with our Scrum in Under 10 Minutes video, now with over 1.5 million views!
Check out our articles, videos and infographics on ScrumHub.com, or join our growing community of agile developers online through Facebook and Twitter.
— Hamid Shojaee
Founder, Axosoft
@hamids