Full-featured bug tracking
for just $1 a year
Our entire professional-grade, online bug tracking software is now available for just $1! Yep, that's it. Your whole team can get a high-quality bug tracker for less than a drive-thru burger. You're welcome.
Everything you need is right here.
Track and manage defects more efficiently with Axosoft Bug Tracker's intuitive, single-page interface. Our tool has all the features you need to get the job done without a bunch of other nonsense. Go ahead, check it out right here!
Mouse over the Axosoft screenshot to learn more.
Track all your bugs
Axosoft's lightning fast interface uses keyboard shortcuts to help you manage issues and enter key information quickly. Axosoft also provides highly customizable field templates that can be configured to collect repro steps, set due dates and receive attachments, so your team only has to enter essential data.
If a defect needs to be resolved by multiple team members over a period of time, Axosoft Bug Tracker's environment supports iterative release planning with drag and drop. To whip through smaller fixes, Axosoft makes it easy to add your team members and divide up defects within the system.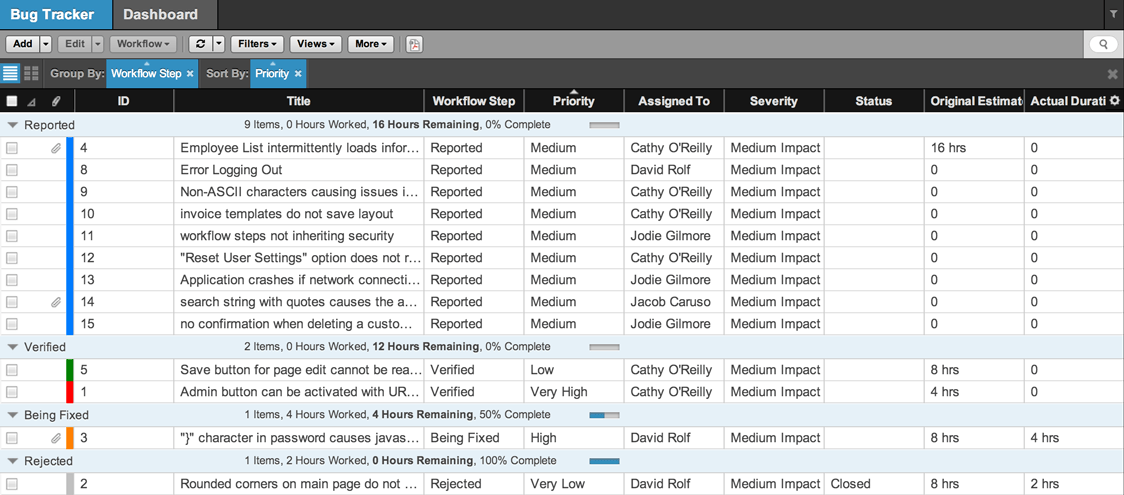 Automate team workflows
If your team wants to produce awesome software even more quickly, you need to systematically eliminate bugs and move issues through your development process with a minimal manual input. That's why automating your team's defect backlog and informing all relevant parties of changes should be at the core of your QA process.
In Axosoft, workflow automations are easy to design, implement and secure with configurable team member user roles. From there, email notifications use triggers and key milestones to instantly alert developers when they need to take action on a defect.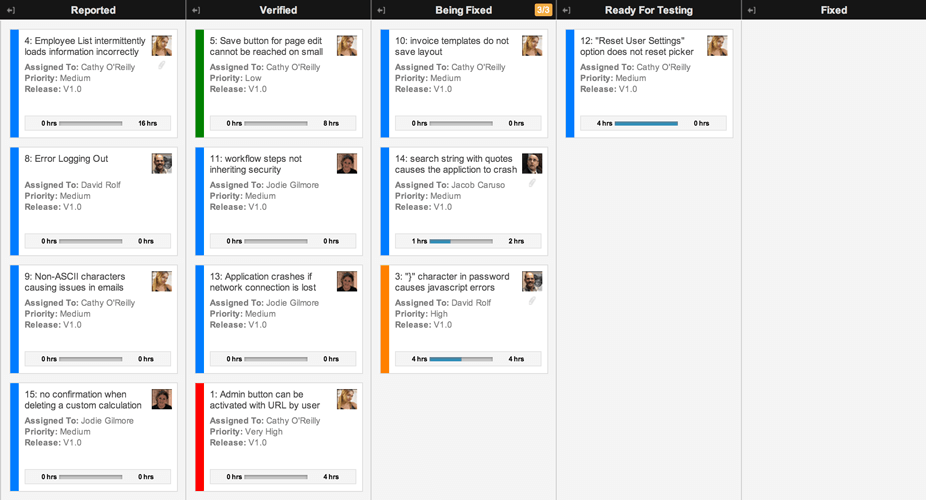 Analyze your progress
Make sure your team is eliminating defects efficiently by using Axosoft to keep a pulse on progress. Axosoft helps you capture work details in several ways: prompting your developers to log time worked, automatically adjusting remaining work estimates, and incorporating addons that accurately time the work on each defect.
When these work logs are added to the system, you can evaluate the progress of your bugfix releases even more easily. Plus, it'll keep you better informed about your development and help you improve release schedule efficiency.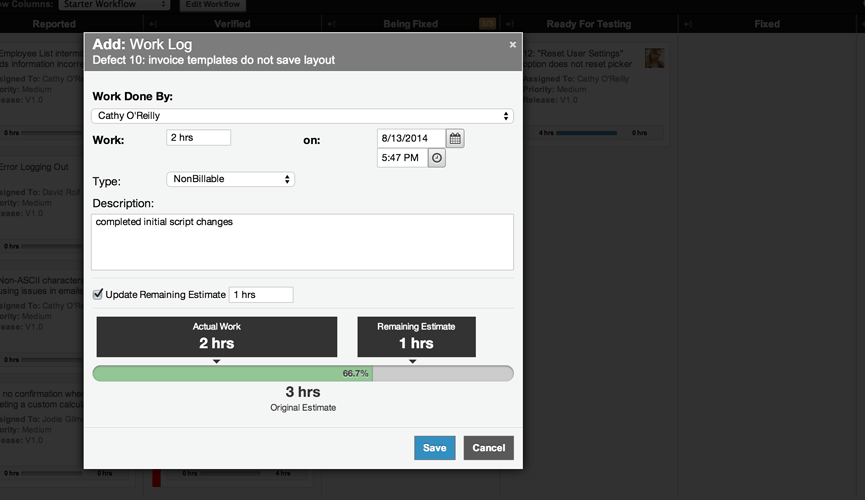 Loved and trusted by
Over 10,000 teams and counting
"Axosoft has changed the way we operate day-to-day…
I don't know how we did without it!"
Jo Overline, Dapper Gentlemen
How Our Pricing Stacks Up
Check out how Axosoft Bug Tracker compares to our competition. Pricing is for 12 months a year, including any applicable annual discounts.
| | Axosoft Bug Tracker | Atlassian JIRA | Fog Creek FogBugz | Pivotal Tracker |
| --- | --- | --- | --- | --- |
| 10 users | $1 | $100 | $1,080 | $500 |
| 25 users | $1 | $1,000 | $4,320* | $1,000 |
| 50 users | $1 | $2,000 | $4,320 | $1,750 |
| 100 users | $1 | $3,000 | $5,400 | not published |
| 250 users | $1 | $5,000* | $9,720 | not published |
*This product has tiered pricing plans. Since there's no tier for this number of users, the next highest tier has been chosen.
"Not published" means the vendor requires you to contact their sales team for a quote.
All Axosoft Bug Tracker features
Why we are giving away our
Bug Tracker for $1
We are making a bet. We're betting you'll love Axosoft Bug Tracker so much that you'll be excited to share it with your friends and check out what Axosoft Scrum, Help Desk and Wiki have to offer. Plus, it doesn't hurt that this initiative is giving us the opportunity to support the Scrum community with our Software Startup Grant Program. We strongly believe that every software team in the world should be tracking bugs in order to make the most high-quality software possible, and our nearly-free bug tracker puts teams of all sizes on a more level playing field.
Axosoft Bug Tracker
Frequently Asked Questions
Wait, is it $1 per year or $1 per user?

Our bug tracker is $1 per year for your whole team. Yes really, not $1 per user per year. Just $1 period.

Have you lowered the price because it's missing a ton of features?

Nope. Our bug tracker is the same professional-grade tool it's always been, so teams can still track and eliminate bugs in record time.

So, what's the catch?

There's no catch. Of course we hope you'll love our software enough to share it with your friends and try our other products (You've gotta check out burndown charts!), but you're not on the hook for anything.
Expand beyond bug tracking
As your team grows and projects become more complex, you may need more than a bug tracker. That's why we've created a suite of developer collaboration tools that integrate with your defect backlog and help your team become even more effective.