Hosted, easy-to-use bug tracking,
for free
Why is Axosoft Bug Tracker free?
We believe your team and every other development team in the world should be tracking bugs in order to make high-quality software. By making Axosoft Bug Tracker free, we hope you'll use it, love it and be kind enough to share it with your friends. Then when the time comes to manage projects, Axosoft Scrum will be the perfect fit for your processes. To support your customers, Axosoft Help Desk will be your best bet. And Axosoft Wiki will always be around to keep your documentation organized. So don't forget about us!
Check it out!
Track and manage defects more efficiently with Axosoft Bug Tracker's intuitive, single-page interface. Mouse over the screenshot to see what you'll be working with.
Mouse over the Axosoft screenshot to learn more.
Track all of your bugs
Axosoft Bug Tracker helps you record and manage key details.
Collect the right details
Custom field templates make it easy to collect important information about your defects, such as repro steps and affected versions. You can develop different templates for each project or workflow step, and you can lock individual data fields according to user role.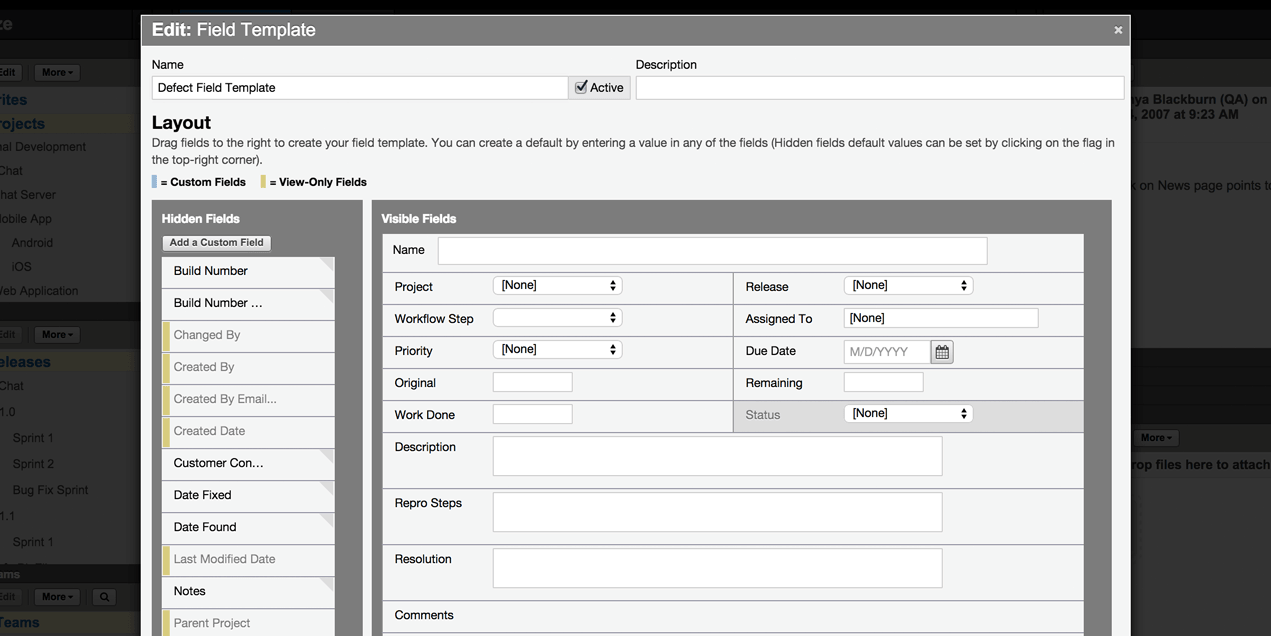 Quickly populate your backlog
Axosoft's intuitive interface, along with keyboard shortcuts, make adding new issues, projects, releases, users and teams incredibly quick and easy. You can get back to doing coding magic as soon as possible.
Create unlimited projects
Get crazy with creating projects in Axosoft: you can create as many as you need to organize your development. Go ahead and create epics and subprojects too for deeper organization. Enforce who has access to each project by setting user security roles.
Easily plan out your bugfix releases
Break down your defect backlog and assign issues to the right user.
Schedule out fixes
We make it effortless to take your defect backlog and divide it into actionable releases. To add defects to your releases, just drag and drop them in. Presto! It's that easy.


Group users into teams
You can't get anything done in those releases without your team doing work, so add your users to Axosoft and organize them into teams. Even create detailed team hierarchies and add certain users to multiple teams. Then associate bugs with an individual or team.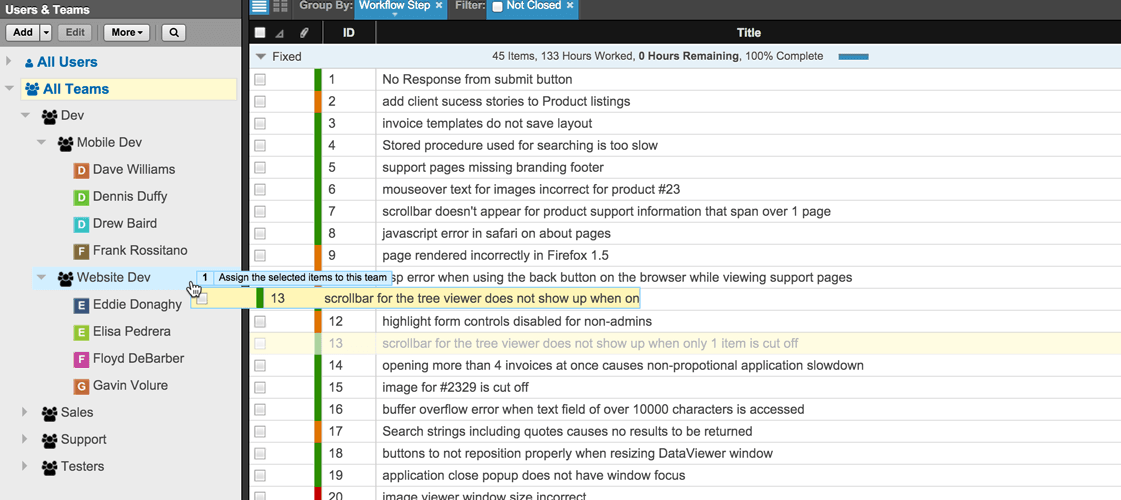 Define and visualize your process
Ensure you're progressing on track with Kanban and automation goodness.
Master the art of Kanban
Card View takes your list of defects and converts them into a fully interactive card board. You can drag and drop individual issues into progressing workflow steps, enforce work-in-process (WIP) limits, and highlight important details on your backlog items.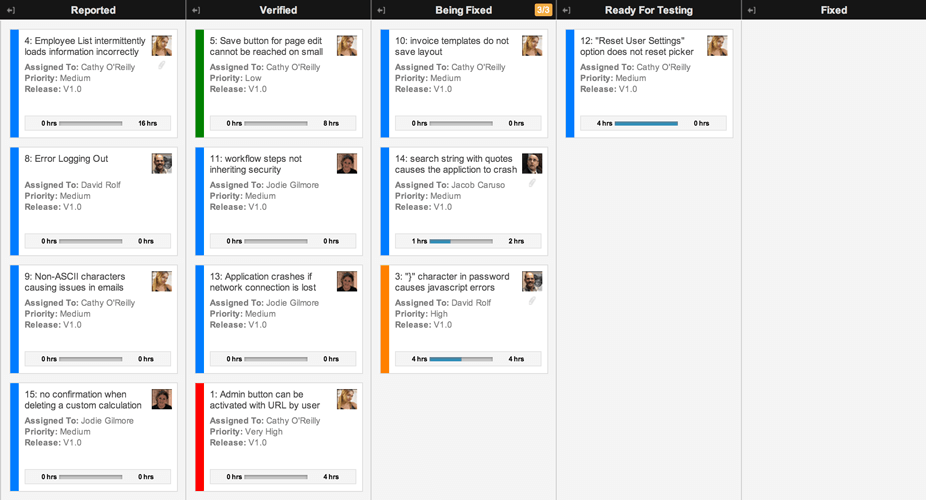 Powerful automation tools
Axosoft's flexible workflow options help you adapt the tool to your current processes. Create workflow steps then drag and drop them into the right order. Even create different workflows for each project.
Advanced triggers and actions
You can tailor each workflow step to your needs: change fields or field templates, enforce WIP limits, send notifications, control workflow step changes by user role, and pretty much whatever else you can think of.
Track estimates and work logs
Set estimates and collect work log data to make sure your team is eliminating defects efficiently. Users can manually log work or be prompted to do so when they change workflow steps. You can also log work with source control commits or with stopwatch addons.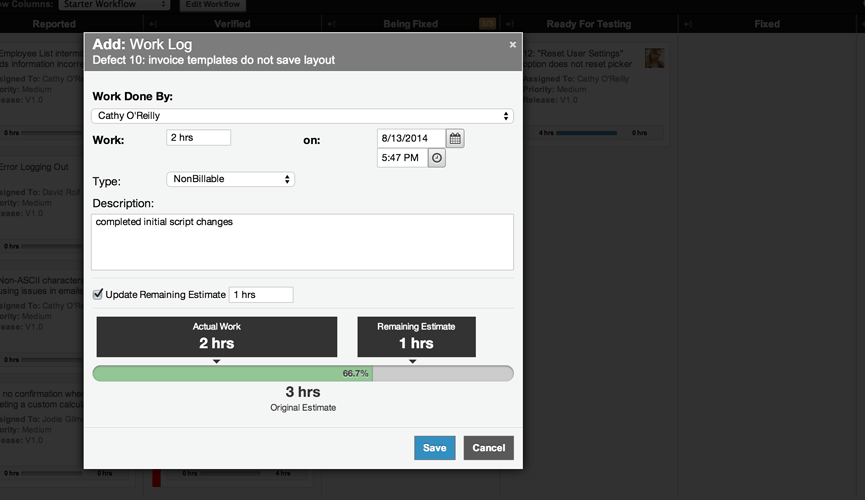 Other Axosoft Bug Tracker features
Even though it's free, we're committed to providing all the features you need to get your job done.
Robust notification systems
Keep teammates in the know with our customizable email notifications, pushing critical info to the right people. Let them know when fields are changed, items are moved, tasks are neglected, or when you're thinking of them.
Reporting
Evaluate how successfully your project is progressing with Axosoft Reports. Reports maintain the settings of your existing backlog view, so it just takes one click to create a report of what you're currently seeing.
Role-based security
Define what users have access to with powerful role-based security options. Decide which users can modify certain fields, work in certain projects, create reports, perform administrative tasks, and get funky with it.
Filters and workspace views
Filter your backlogs by any kind of parameter to retrieve data you need instantly. Utilize these filters in reporting, notifications, dashboards, and more. Save the workspace views you use the most and share them with your team.
Powerful full-text search
Custom in-app terminology
Associate items with customers
Audit trails & history
Scratchpad notetaker
Mobile-optimized web view
Integrations and addons
Axosoft can connect to an ever-growing number of services and tools using the Axosoft API. Integrations are maintained by both Axosoft and third parties, allowing you to hook into tools for source control, chat, test case management, and more. Check them out on our Integrations and Addons page.






Expand beyond bug tracking
As your team grows and projects become more complex, you may need more than a bug tracker. That's why we've created a suite of developer collaboration tools that integrate with your defect backlog and help your team become even more effective.