More than 11,000 teams love Axosoft Over the last decade, tons of organizations have started using Axosoft, so they can produce even better software. Here's what a few of them have to say.

Dapper Gentlemen
Dapper Gentlemen are Phoenix-based app developers that have earned over 30 million downloads for their award-winning apps. After their runaway success The Ugly Meter, the team has continued developing apps independently, while working with top brands and startups.
The Dapper Gentlemen have spent the last four years building apps that have received national attention. Their runaway success, "The Ugly Meter" prompted interviews with the Today Show, Howard Stern, CNN and many more. Since then, business for the two iOS developers has boomed, and they've had the opportunity to work with some of the country's most recognizable brands. While this growth has been exciting for their team, it's also posed new challenges.
Halfway through 2013, the team's difficulties creating accurate estimates had become a particular frustration. Though an informal process had been functional early on, they quickly realized the necessity of a system that could provide reliable numbers and help them continue growing.
"In the past we just sat down and did a project until it was done. That's why a lot our bids were completely random," said Jo Overline, co-founder of Dapper Gentlemen. "All developers have issues with estimates like that. They're scared to give project quotes because clients want a rock-solid number and things could take longer than projected."
Fortunately, Axosoft changed all that. The company found Axosoft's agile project management software by chance as they searched for a solution to their estimates problem. Since then, Jo says the company's customer quotes have become "dead on". Thanks to the burndown charts, Axosoft has given their team the ability to visualize progress and prioritize items based on momentum. This system-based approach provides a plan that helps developers finish items faster and stay focused on long-term goals.
"Now that we can accurately bid our times and costs, we're getting more business because we can be confident in the numbers we give," said Jo. "It also gives us the opportunity to run our project leaner because we can break it down and know exactly how long certain aspects will take. I don't know how we did without Axosoft and we've only been using it for a couple months!"
"Now that we can accurately bid our times and costs, we're getting more business because we can be confident in the numbers we give [to clients]."
— Jo Overline, Founder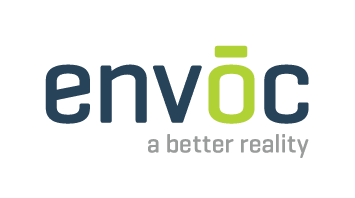 Envoc is a Louisiana-based software and design Company that provides custom software solutions for businesses and individuals from "conception to consumption." Their mission is to bring "a better reality" to their team and clients through radical creativity and productivity.
In 2008, Envoc was a growing custom software company struggling to keep track of project data that had become scattered across multiple platforms. If the company were to continue expanding, their founder, Calvin Fabre, knew they needed a solution that could store all their client information, track development hours and help them "begin the process of true agile-based development."
After researching many popular tools, the team was left frustrated by options that would clearly leave, what Fabre called, a wide "consumption gap" for his team. The last thing he wanted was a cluttered, 500-feature software when they really only needed four or five key components to enhance team productivity. That's when he found Axosoft.
"We liked Axosoft because it has everything in it. From wiki pages and project management, to time entry and incident handling… It includes all the practical features you need in a software development tool without superfluous functions you pay for, but don't use."
Envoc has been using Axosoft for the past five years and made it "the centerpiece of everything we do." By tracking billable hours with a custom field in Axosoft, Calvin now feels like he can head out of town without worrying about the profitability of the company.
"When I went to Disney World last week I could look at our dashboard and tell that we're within healthy levels of KPIs. As long as our key metrics are healthy, I know I'm not going to get any surprises at the end of the month," he said. "So many people that own businesses don't feel like they can take vacations... but if you know everything is running the way it should, people are doing what they should, and you're within your goal limits, then you don't have to stress."
"[Axosoft] includes all the practical features you need in a software development tool without superfluous functions you pay for, but don't use."
— Calvin Fabre, Founder