Managing Projects
Projects are the core component of organizing your Axosoft backlogs and wiki pages.
Adding Projects
To add a new project in Axosoft, select the parent project (or All Projects) in the Projects pane in the Organize Panel and click the Add button in the pane toolbar. You can quickly add a new project by giving it a name.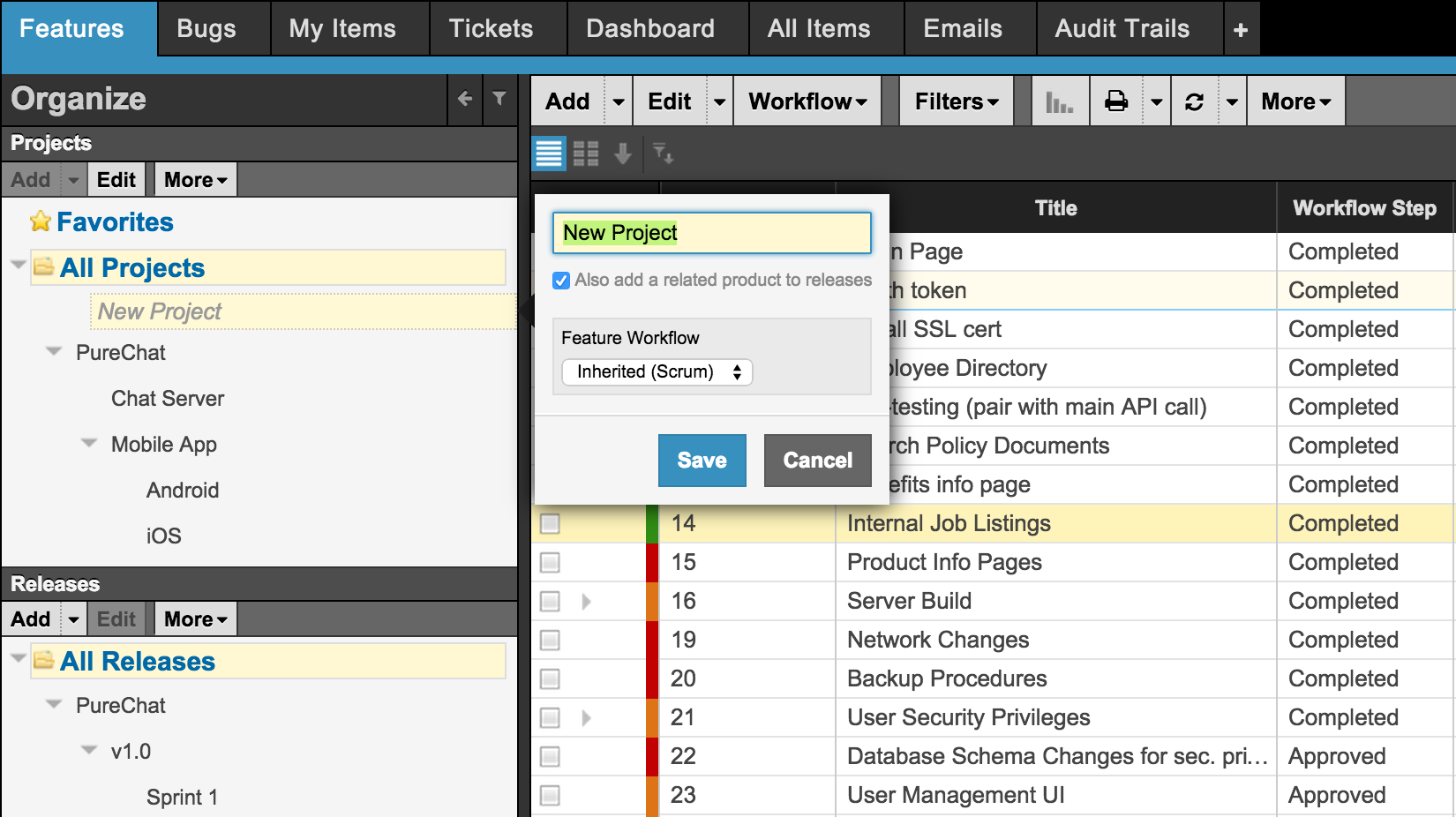 You can also select the workflow you would want to use for the new project. The default option is inheriting the workflow from the parent project, but you can select others from the dropdown here.
If you're creating a root-level project, you have the option to create a related product for the new project in your releases, allowing you to build out versions and sprints.
Editing Projects
Edit any project by selecting the project in the Projects pane and click the Edit button in the pane toolbar, or right-click and select Edit.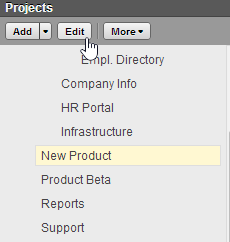 Project Info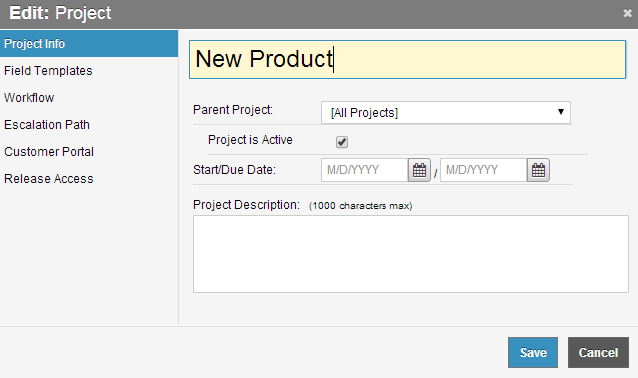 The Project Info screen contains basic settings for the project, including its active status, parent project, duration, and description.
To change the parent project, select a new parent project from the Parent Project dropdown. You can also just drag and drop the project to the new parent in the Projects pane in the Organize Panel.
If a project is no longer worked on, it can be marked as inactive so that it does not have to be deleted and is instead hidden from the Projects pane. To view inactive projects, just click on More in the Projects pane toolbar and select User Options Show Inactive Projects.
Field Templates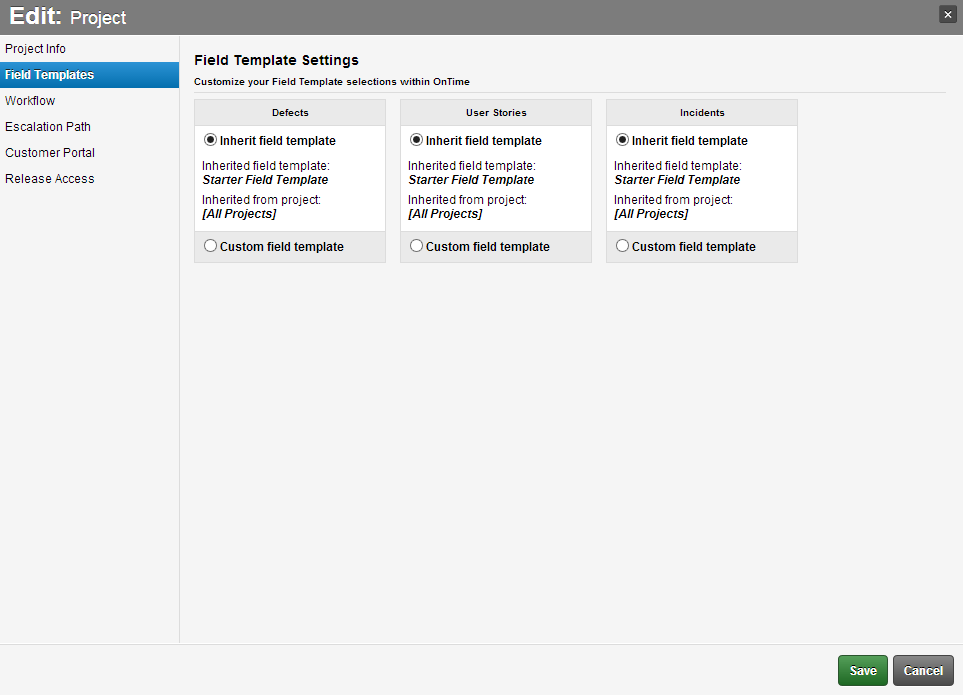 Select the field template to be used when an item in the project is viewed, or when a user chooses to edit an item with Edit using project template. By default, editing items use the field template associated with the current workflow step. Learn more about workflow management with field templates by visiting Managing Workflows.
If you want the project to inherit the field template from its parent project, select Inherit field template. The name of the inherited field template and the project it is inherited from are displayed underneath the radio button. By default, new projects inherit from their parent.
Workflow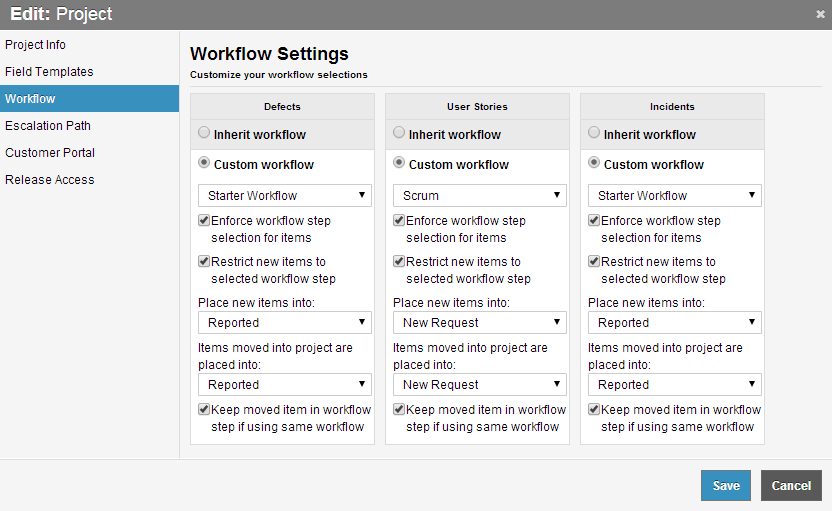 By default, new projects also inherit workflow settings from their parent. The name of the inherited workflow and the project it is inherited from are displayed underneath the radio button.
If you want to select a specific workflow for a project, choose Custom workflow, then select the workflow you want to use from the dropdown. The following settings are available:
Enforce Workflow selection for items: With this option checked, all items must be placed in a workflow step when being created (removes the "[No Workflow Step]" option)
Restrict new item to the selected workflow step: This option requires that all items created would have to first be saved in the workflow step that is selected below.
Keep moved item in workflow step if using same workflow: This option ensures that when changing an item's project, if the old and new project both use the same workflow, then the item will stay in the same workflow step in the new project
Recommended: We recommend checking all of these options so that when adding items, they would first need to be saved in your first workflow step, and then moved through your defined workflow process to be completed.
Escalation Path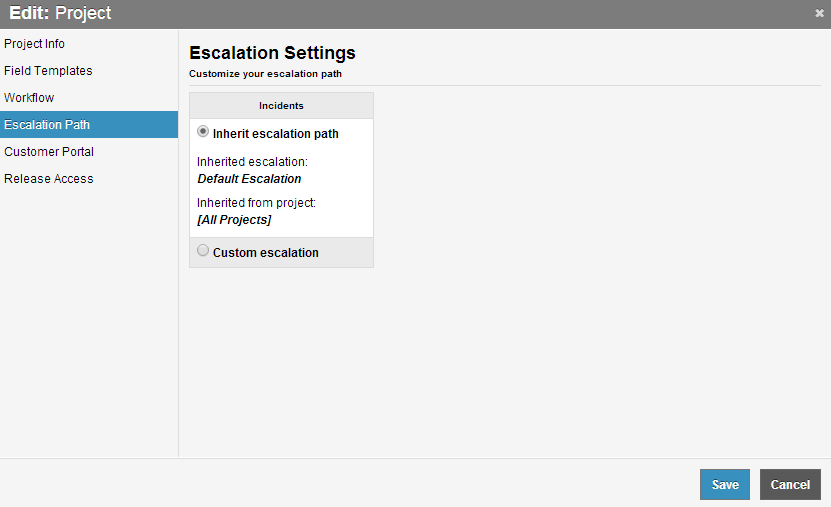 Incidents have a special Escalation field that can be configured differently for each project. To add or edit Escalation Paths, go to Tools Other Settings Escalations.
Customer Portal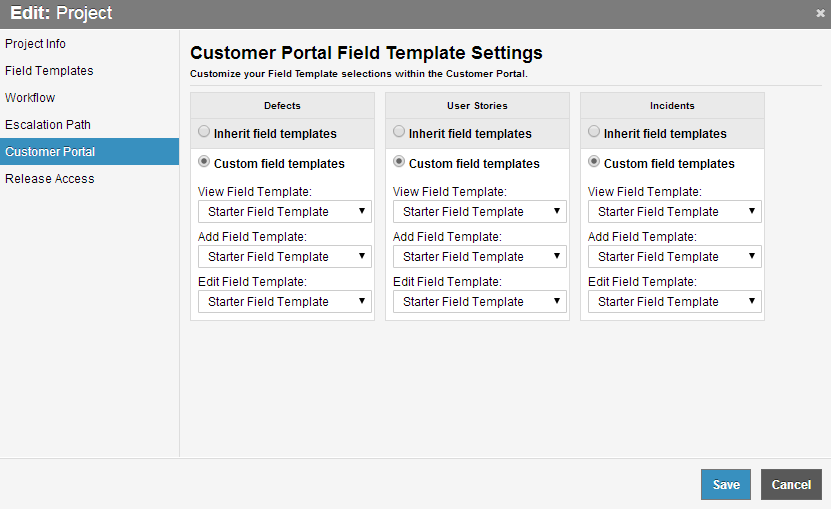 Select field templates used in Customer Portal for this project, in order to define what fields customers can view and edit.
If no field template is set for Customer Portal, then only the title will be available when customers add, view, or edit items in the portal. This is the default behavior to remove the possibility of displaying sensitive information to customers by default.
Release Access
The Release Access screen allows you to set which releases are associated with items in the current project. If you have user security roles with access to view only certain projects, then they will by extension only view the releases associated with those projects.
For example, if you have a user that only has access to "Project B" in their security role and its associated releases, and they cannot view "Project A", then they would also not be able to view options for releases for "Project A" as well.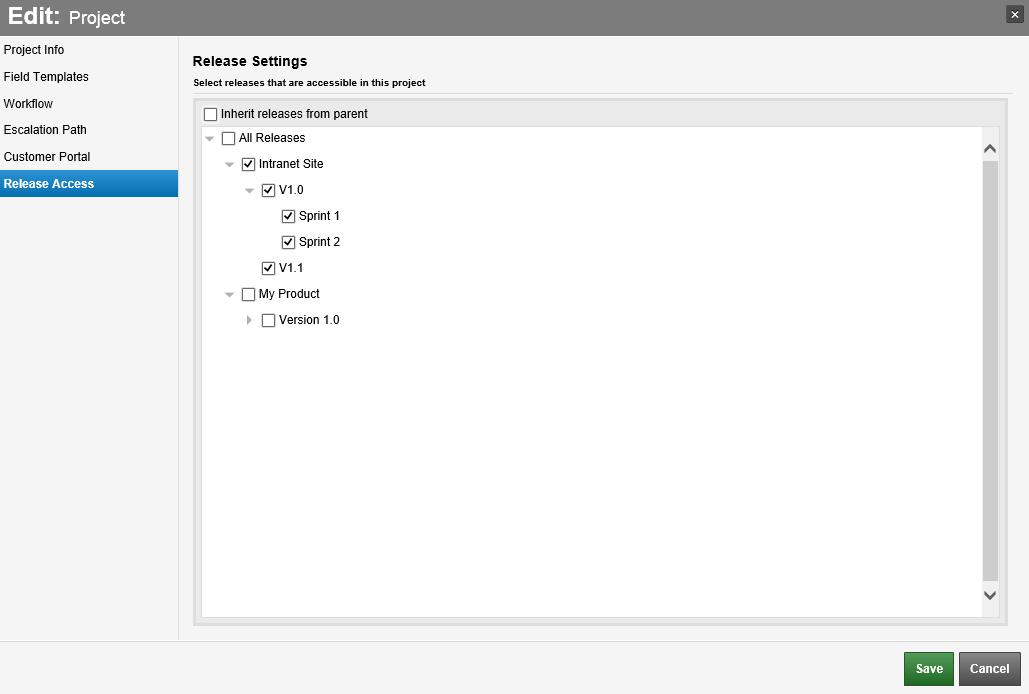 This is also helpful for when editing the release of an item, as it allows you to limit the options in the Release dropdown field for items in a project. In the example above, if editing an item in this project, your only option will be to select from the "Intranet Site" release and its children. This is great for larger databases as it allows you to manage a number of different releases and sprints, but makes the release menu more manageable and convenient by only showing relevant options.
Adding Projects to Favorites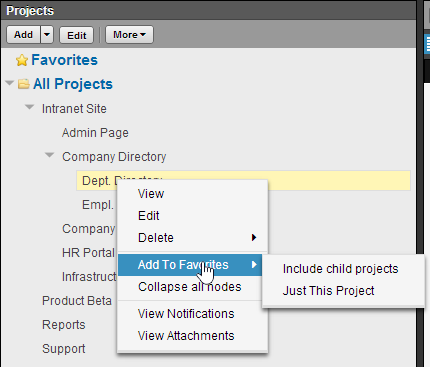 Each Axosoft user can right-click on any project in their Projects pane and select Add to Favorites to mark a project as one of their "favorites". These project favorites will display above "All Projects" in the user's Projects pane, making those projects much easier to organize and access. You can add just the selected project as a favorite, or include all of its subprojects.
Project Notifications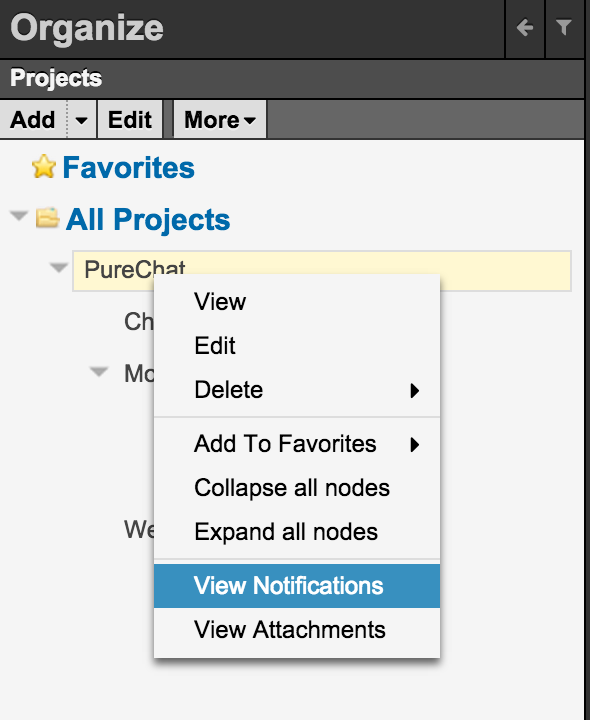 To add or edit notifications for a project, right-click the project and select View Notifications.