Managing Wiki Pages
The Axosoft Wiki tab keeps your valuable project information in one central location, instead of scattered around in emails. It's a great collaboration tool for brainstorming ideas, coding guidelines, tutorials, corporate values, internal policies, and more.
Adding Wiki Pages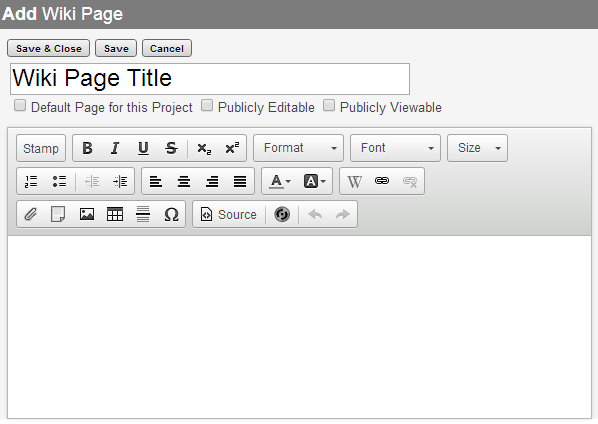 To create a new wiki page, press the Add button in the workspace toolbar when viewing the Wiki workspace tab. This pulls up the Add Wiki Page screen, where you can enter the title of the page, and enter the text below. The standard Axosoft WYSIWYG toolbar is available—read Formatting Text Fields to learn more. If you check Default Page for this Project, this page will display when selecting this project in the Projects pane in the Organize Panel, and will also show as bold in the table of contents.
Pages that are marked Show on Portal are viewable/editable through your Customer Portal if the portal security role allows for viewing/editing of wiki pages in this project. For more information on customer portal security roles, read Customer Security Roles.
Tip: You can make a wiki page viewable to your Anonymous Customer Portal security role to display to your customers before they even log in!