Ship on time and on budget
Axosoft includes all the essential tools for planning, tracking, and analyzing your development progress.
Plan effectively to meet your ship date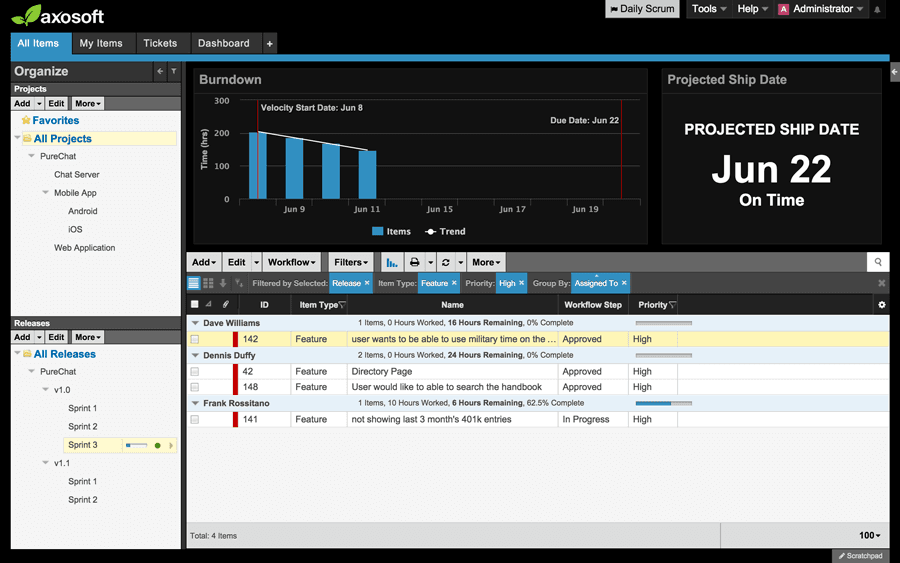 Ensure all the important details are collected for your items with fully customizable field templates. When everyone has all the right information, you'll be able to reduce mistakes and confusion.
Intelligently break down your backlog into unlimited projects, releases, versions, and sprints. Then estimate the amount of time it will take to finish items so you can see how long a given release will take as you build it out. Capacity indicators will help set limits so you don't assign too much work to a release.
Our awesome burndown charts will bring visual clarity to your team's estimated velocity and when your release is projected to ship. Guess what? All this impeccable planning will help you ship on time!
Improve your process – Scrum, Kanban or whatever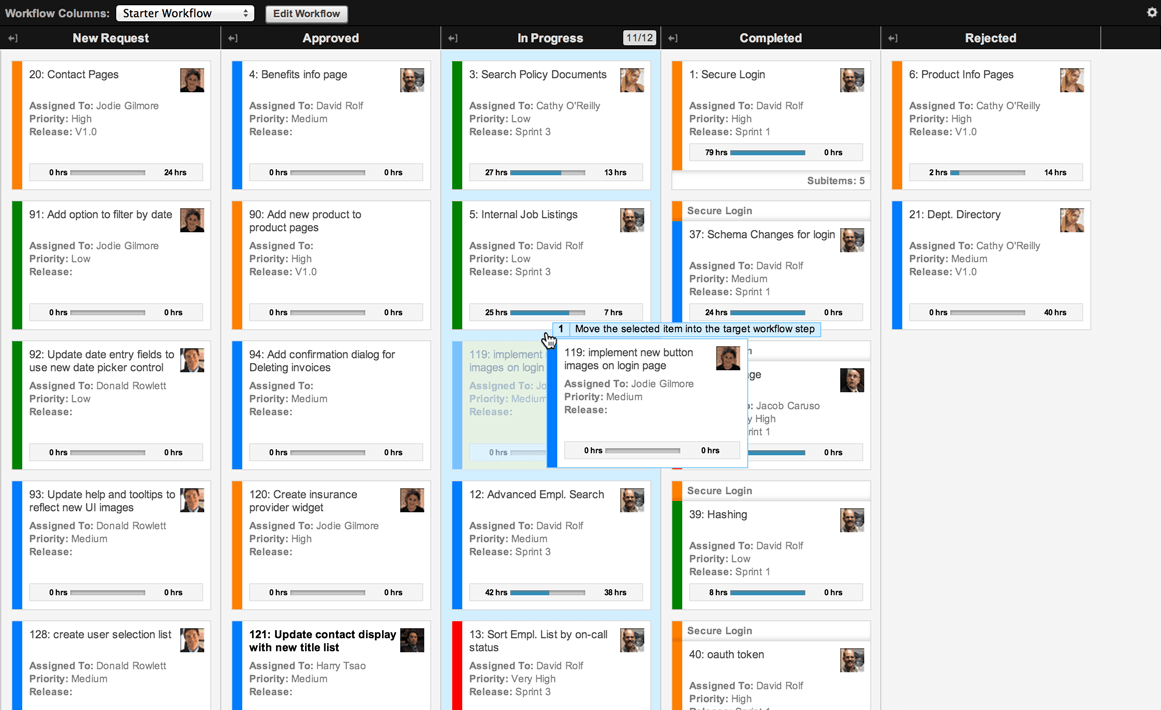 Axosoft has predefined workflows to help you do Scrum, Kanban, and more. We also have customizable workflows to support whatever other crazy, awesome, supercalifragelistic process you use.
Your workflows may vary depending on whether you're working with user stories, defects, or incidents, and even on a project by project basis, so customize them to your heart's delight!
Visualize your release, sprint, or entire backlog in a fully interactive Kanban board. Drag and drop individual issues into progressing workflow steps and keep track of important details.
Connect your team so everyone is in the loop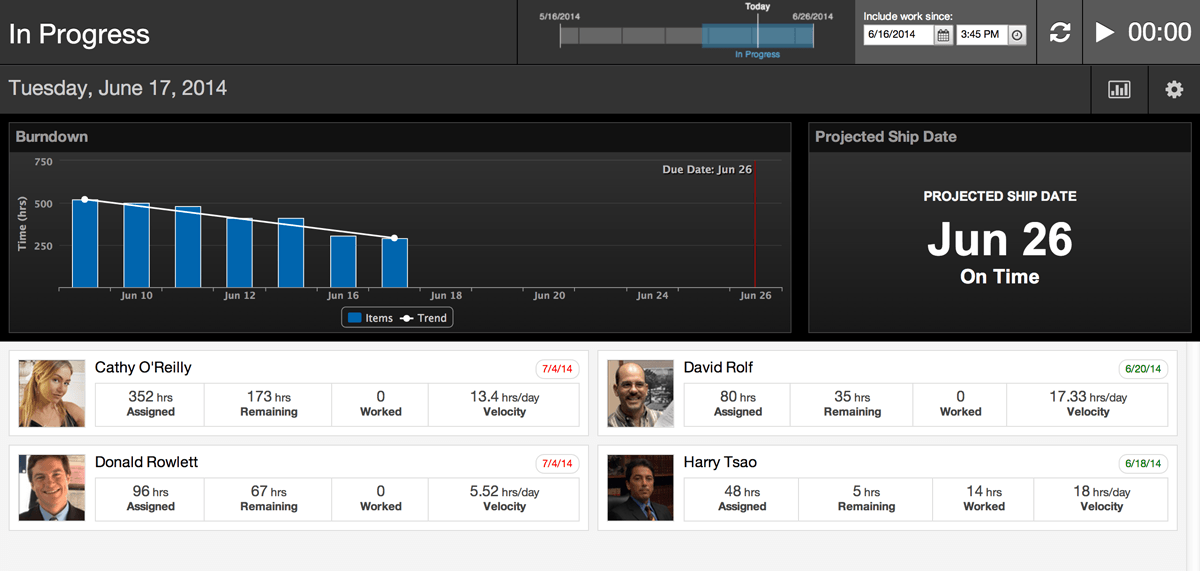 Use the Daily Scrum mode to know exactly what each team member has completed, what they're working on now, and any issues that have come up.
Push critical info to the right people with customizable email notifications. Let them know when fields are changed, items are moved, tasks are neglected, or where you're going for happy hour.
Filter your backlog by any parameter to instantly view specific data. Save your favorite workspace views for quick reference and easy sharing.
Collaborate together on wiki pages that integrate with your existing project structure. It's a great way to get new team members familiar with the way you do things.
get everything done in one place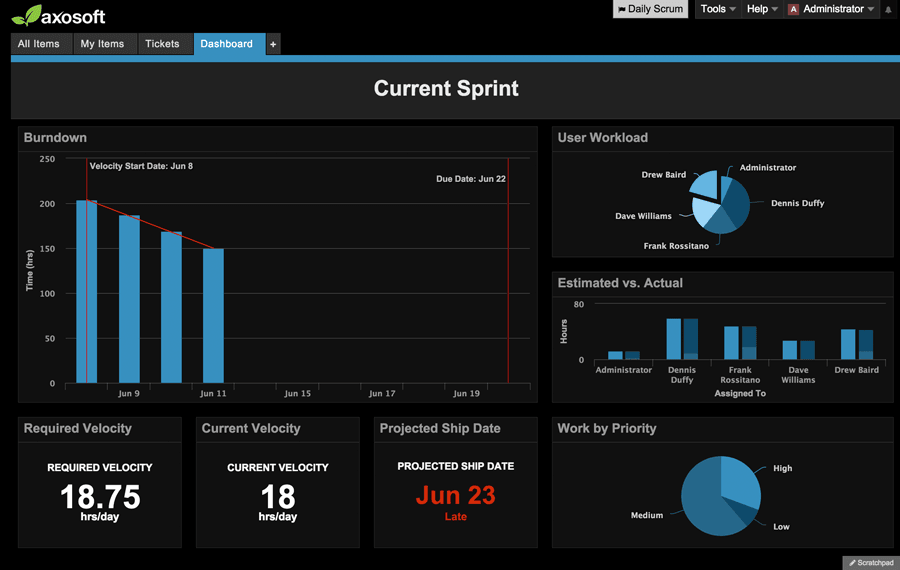 Axosoft is the one place managers, developers and customer support can all work on projects together.
Managers derive meaningful data to make educated decisions. Reports can be quickly generated from any backlog view. Progress is easily visualized and measured with burndown charts, projections, user workloads, velocities and more essential data on your Axosoft dashboards.
Developers can associate items and work logs with their commits to spend less time in Axosoft and more time coding. If they're using Axosoft direct, our keyboard shortcuts and fast interface make that experience quick too.
Customer support has the ability to track and resolve incidents quickly with email-to-ticket automation, canned responses and in-app conversation threads.
Make your customers feel like the center of the universe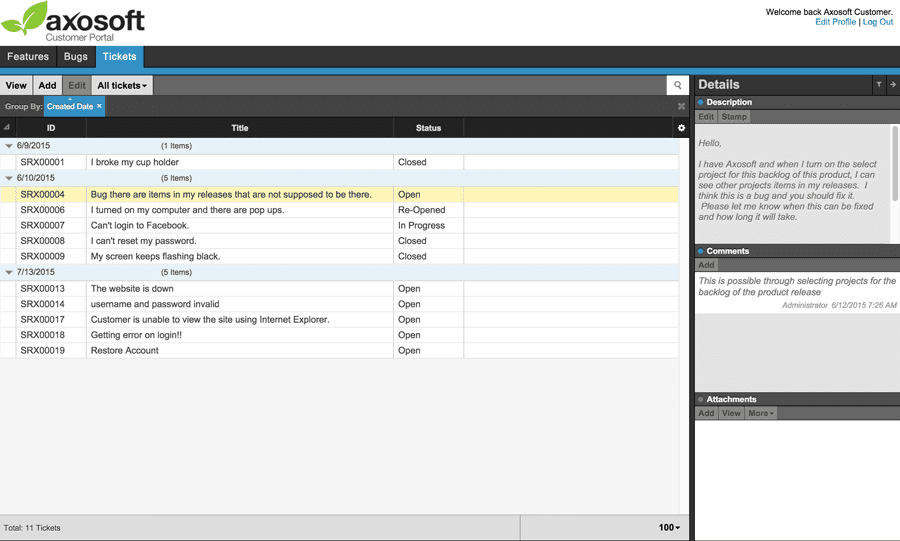 Axosoft empowers your team to build great software for your users, customers, or clients, beyond simply receiving support tickets.
Your branded Customer Portal offers a way to publicize specific projects, releases, wiki pages, and other development information. Your outside stakeholders can also create and edit tickets in the portal without being actual users in your Axosoft account.
To give your executives, managers, or customers access to essential project data, you can make any dashboard public and share the URL with them.
Integrate with popular tools
Axosoft can connect to an ever-growing number of services and tools using the Axosoft API. Integrations are maintained by both Axosoft and third parties, allowing you to hook into tools for source control, chat, test case management, and more. Find your favorite tools on our Integrations and Addons page.








Axosoft isn't just the product, it's the people
We're just like you—a company of real people (and one really cool AxoBot) developing kickass software. So we feel your pain! That's why our product experts will work with you to find the best solution and get it configured to your needs. Don't fret, our customer success team will keep working with you, providing resources like Axosoft Premier and training webinars, to ensure your continued success every step of the way.
Let's get started together