Get important project information at-a-glance by using the Axosoft Dashboard. This visual analysis tool will help your team effectively measure progress and make insightful decisions based on real-time evidence.
Customize your dashboards
For instant access to essential project data, you can build out your dashboard to include a variety of gadgets that display burndown charts, projections, user workloads, velocities and more. Your team can create as many dashboards as necessary to organize what you want to see. Maybe some developers want a QA board to watch bugfix releases, and others want a dashboard for each sprint... No problem! Any user can make public dashboards, so everyone has access to the information they need.
The dashboard interface is ultra flexible and makes adding new information a breeze. To enhance the display you can choose a black or white theme, then simply drag gadgets into your dashboard and resize them as necessary. The screen can also be modified to enter presentation mode, so running it on a large monitor full time is easy.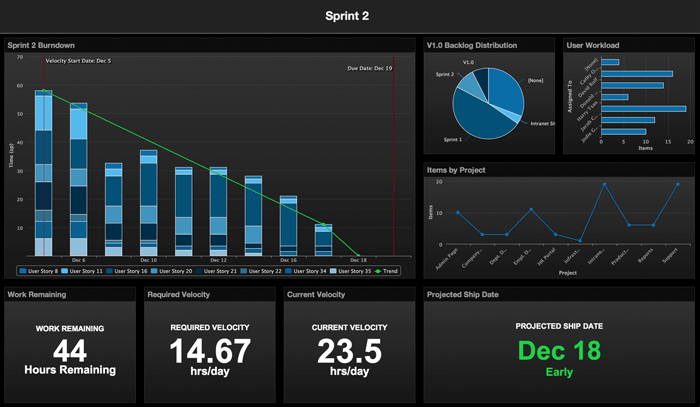 Configurable gadgets
Axosoft Dashboards can be equipped with the following gadgets:
Burndown chart - illustrates the estimated work remaining in your releases
Item chart - organizes any of your items into a pie chart, by whatever criteria you want to analyze
Required velocity - the amount of work your team must complete per day to ship a release by its due date
Current velocity - actual amount of work being finished per day in a given release
Projected ship date - the estimated date your product will ship based on current velocity. This number also lets you know if you're ahead or behind schedule.
Work remaining - estimated amount of work remaining in a release
Plain text - displays any text you need
Twitter - updating list of tweets derived from a Twitter search
Axosoft Products that use the Axosoft Dashboard