Keep everyone in the loop with email notifications that automatically push critical information to the right team members. Users can subscribe to Axosoft notifications that will email them about key changes to items and projects. Even customers can get automatic messages, so all stakeholders are receiving regular updates.
Never miss important changes
Whether it's item modification, changes in workflow state, new Help Desk emails, or wiki page additions, email notifications can be triggered by a wide variety of actions. These specifications can get incredibly granular, allowing notifications to be sent for items in certain projects or certain fields in an item.
Emails can be sent to relevant team members, individuals or roles that are related to the triggered action. For example, a defect moving to the workflow step "Ready for Testing" can trigger a notification to all users with the "Tester" role. You can also allow customer contacts to receive notifications about backlog items associated with them, and control which fields are visible to them in that notification.
Stay informed with advanced alerts
You can also design notifications to trigger based on certain criteria or filters. For instance, you may create a backlog filter to display defects that have not been resolved for more than 14 days. This filter can then be used to set up a notification that emails you every day with new items that reach that threshold. With this type of notification in place, you'll always stay informed about neglected portions of your backlog.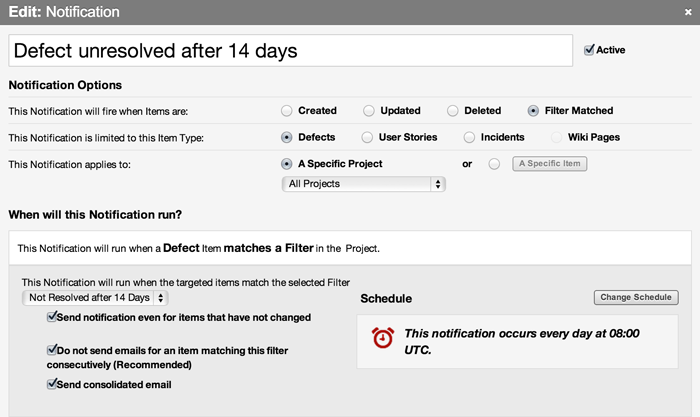 Bring key information to the forefront
A key component of Axosoft notifications is the email composer that allows your team to determine how much information is sent to them. You can format an email's content to include the field template a developer would need to see, or exclude details that don't pertain to customers. Your team can also design new field templates to be specifically used for notifications, so the right information is always at the forefront.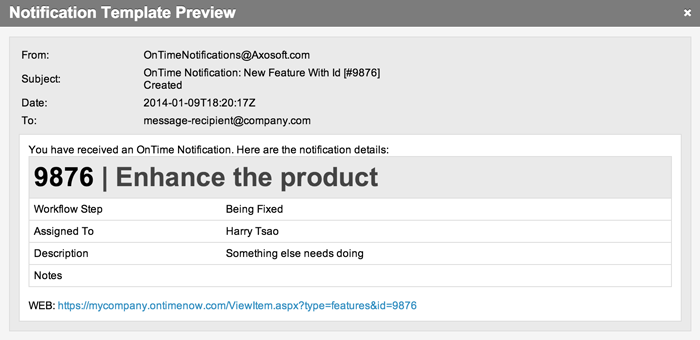 Axosoft Products that use Notifications