Axosoft empowers your team to quickly break down a backlog into releases, versions or sprints. This release tree exhibits a clear structure where your team can quickly drag items into various sprints, and filter through user stories, so only relevant items are displayed. You can also intelligently plan your releases in Axosoft by using the release capacity feature to keep estimated work time in mind.
Create a release with one click
Your release tree panel is the go-to place to add new products, releases and sprints successively. When you create one of these groupings within the release tree panel, you'll get started by identifying its name and duration. From there, you can right click the new release to add a sprint, or drag in user stories and defects.
To isolate and display the items associated with a specific sprint or release, simply select the grouping you would like to see. Once you're viewing an individual sprint/release you can begin creating new user stories and defects specific to that grouping.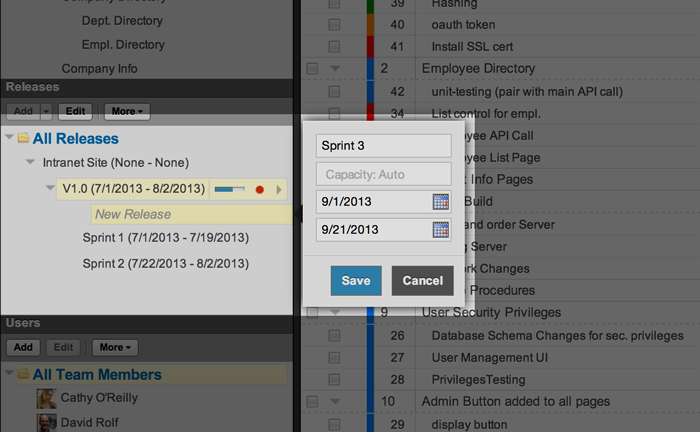 Understand your team's capacity
To make sure your team takes on the right amount of work during a given sprint or release, you can set capacity. Capacity is a guide that determines how many hours or story points worth of work belong in a release, so your team maximizes bandwidth. As your team drags items in, the Axosoft capacity indicator will ensure they don't take on too much by glowing red when capacity has been exceeded.
Additionally, the release tree uses your team's work logs to determine how quickly items are progressing through a sprint. An indicator next to the release name displays this information and allows teams to see whether they're ahead of a ship date or falling behind.

Axosoft Products that use Sprint and Release Planning