Resolve incidents instantly
Axosoft Help Desk empowers your customer support team to work more efficiently.
Axosoft Help Desk gives your support team the ability to track and resolve incidents even better with email-to-ticket automation, canned responses and in-app conversation threads. Your customers will also be able to self-report and monitor their issues in our web-based Customer Portal.
Email-to-ticket automation
Instantly convert your team's incoming support emails into incidents with Axosoft Help Desk. You can set up an email account for your support team in Axosoft, that instantly converts incoming emails into incidents, which can be pushed through the workflow so your team receives the proper notifications.
Axosoft Help Desk also provides a centralized location for your support team to keep track of individual contacts within customer organizations. With just a click, your team can filter the incident list to show only those communication with a given customer or contact. Doing this helps put your relationship with the customer in perspective so you know if there are existing unresolved issues, how many times they've contacted support, and what types of issues have come in previously.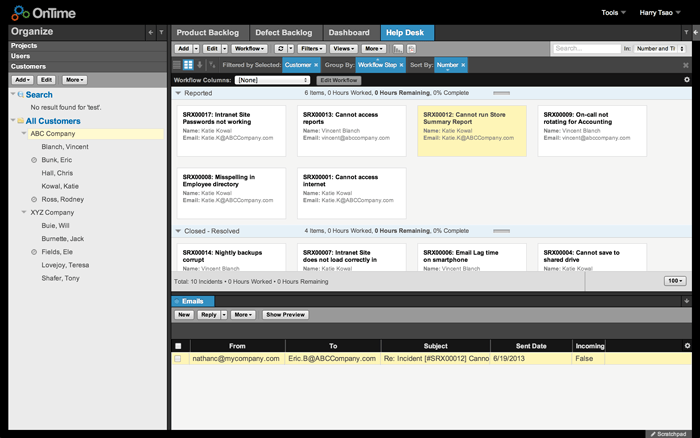 Canned responses and conversation threads
Most support departments will have commonly asked questions regarding their products and policies. Even though some parts of a customer response may be unique from case to case, other parts may be identical in nearly all cases. That's where canned responses come into play. Canned responses are perfect for frequently asked questions lists, answering common questions (like password resets or pricing information), and providing a list of useful resources.
Emails retrieved by Axosoft are maintained in threads to keep conversations intact. These emails are associated with the appropriate help desk incident (or defect or feature). All Axosoft users with the appropriate security level can view these conversations, bringing them up to speed instantly when the need arises. This is ideal for knowledge-sharing. Now management, development teams, QA, and help desk/support staff have a single location for storing and accessing conversation threads, as well as the ability to feed emails directly into assignable action items.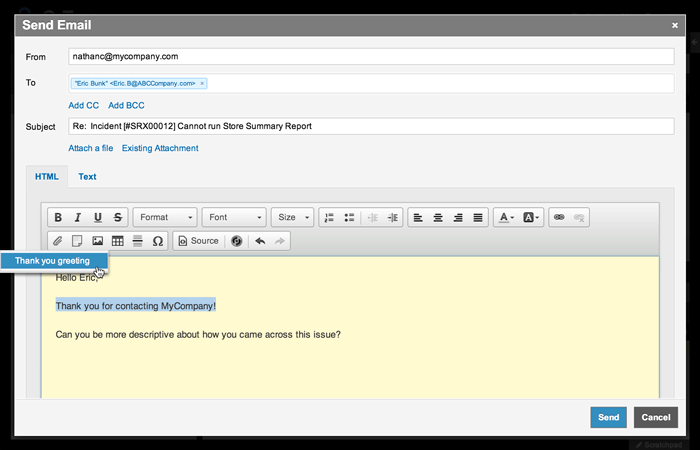 Integration with other components
To streamline the relationship between your support and development departments, Axosoft Help Desk integrates with the Scrum and Bug Tracker components. That means the support team can convert any incident into a user story or defect instantly, so every customer submission is acted on right away. This seamless component interaction improves your processes and ensures nothing slips between the cracks.

A self-service Customer Portal
Axosoft Help Desk's Customer Portal gives your customers a personalized site where they can track and report their own incidents. If your team also uses Axosoft Scrum and Axosoft Wiki, they can get limited access to backlogs, releases and wiki pages as well. The security settings are controlled from Axosoft Help Desk and ensure each user has the appropriate clearance to view or edit items. By default, the items you track in Axosoft are not visible in the Customer Portal, but you can make them all public or limit it on an item-by-item basis.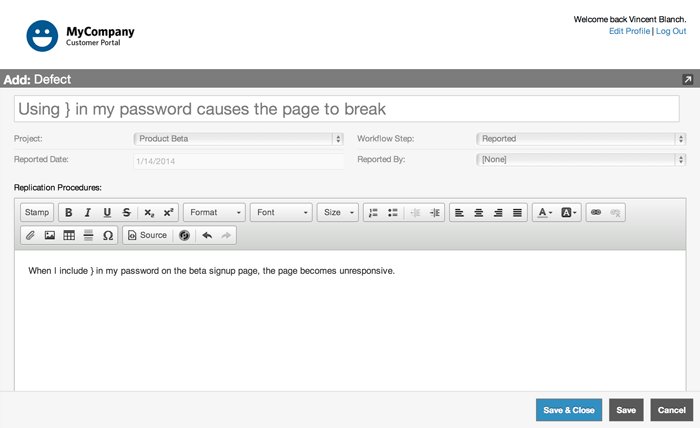 Support + project management
As your team grows and users' needs become more complex, you may need to convert customer incidents into trackable items. That's why we've created a suite of developer collaboration tools that integrate with Help Desk to connect your support team and other departments.