deliver software, not headaches
Axosoft makes project management easy for your software dev team, without compromising their workflow.
ship your software on time, every time
Comprehensive tools to help plan and complete your releases effectively.
Release Planner
Get your sprint planning off to the perfect start! Create and assign items to teams and team members, view unassigned items, and drag-and-drop to modify your sprint. See instant changes to your team's work capacities as you go, and check how your sprint's release capacity compares to the limits you have set.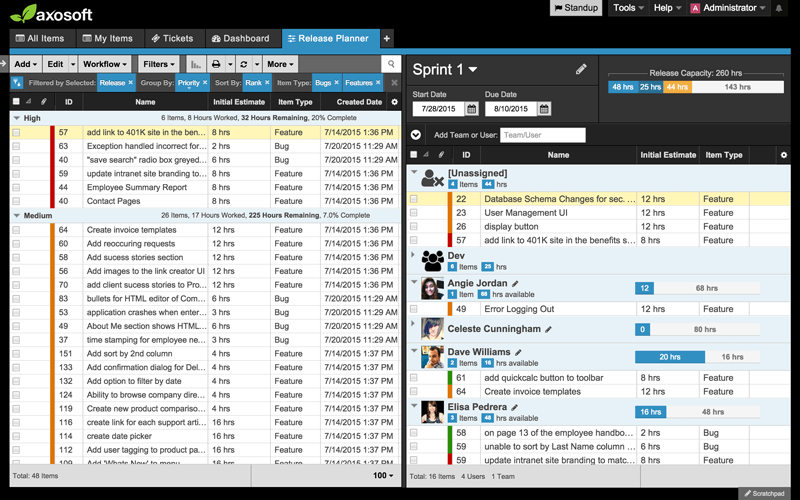 Burndown charts and velocity gadgets
Surprising your customers with new features? Great! Surprising your project manager with avoidable mistakes? Not so much. Burndown charts are essential to planning your releases because they give you a daily breakdown of work still outstanding. Axosoft's clever algorithms will calculate your velocity as your release progresses so you can anticipate issues ahead.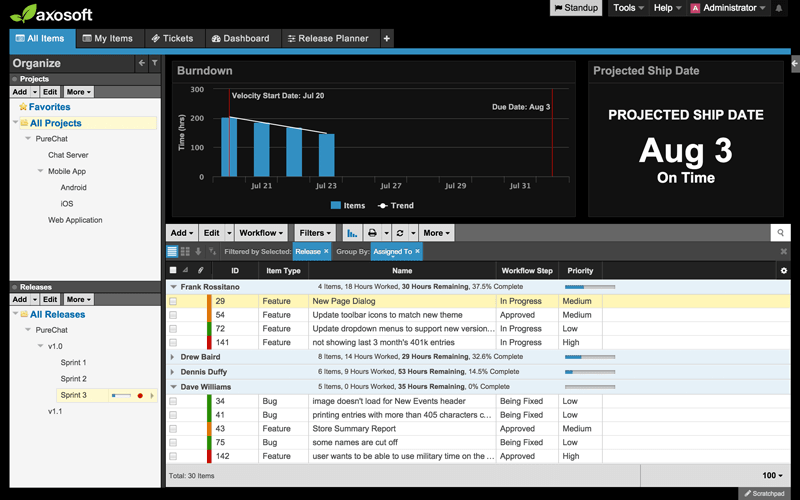 Unlimited, versatile projects
No matter what weird and wonderful structures you may have in place, Axosoft has you covered. Create unlimited projects and subprojects to match your product hierarchy, with specific workflows and field templates for each if you need them.
Custom fields and field templates
Make your Axosoft environment reflect your project's needs and terminology by creating templates that you and your team are familiar with. Axosoft supports a diverse array of custom fields and pick lists.
Robust reporting
View the data you need to keep your project on target, make projections and correct mistakes before they happen. View reports online or export them to files and share with your team. Plus, if you can see it in the item grid, you can print it!
Minimize your development overhead
Powerful automation for visualizing and improving your process.

Axosoft's workflow automation is drag-and-drop easy, with a wide variety of options for enforcing how you develop software including Kanban, Scrum, and other agile methods. Fire off notifications, prompt work logs, establish work-in-process (WIP) limits, POST to URLs—the flexibility is endless.
Axosoft Card View
Axosoft's Card View is a fully interactive Kanban board. Customize and edit item cards, drag-and-drop between steps, add work logs, and view WIP limits—all without ever leaving your board.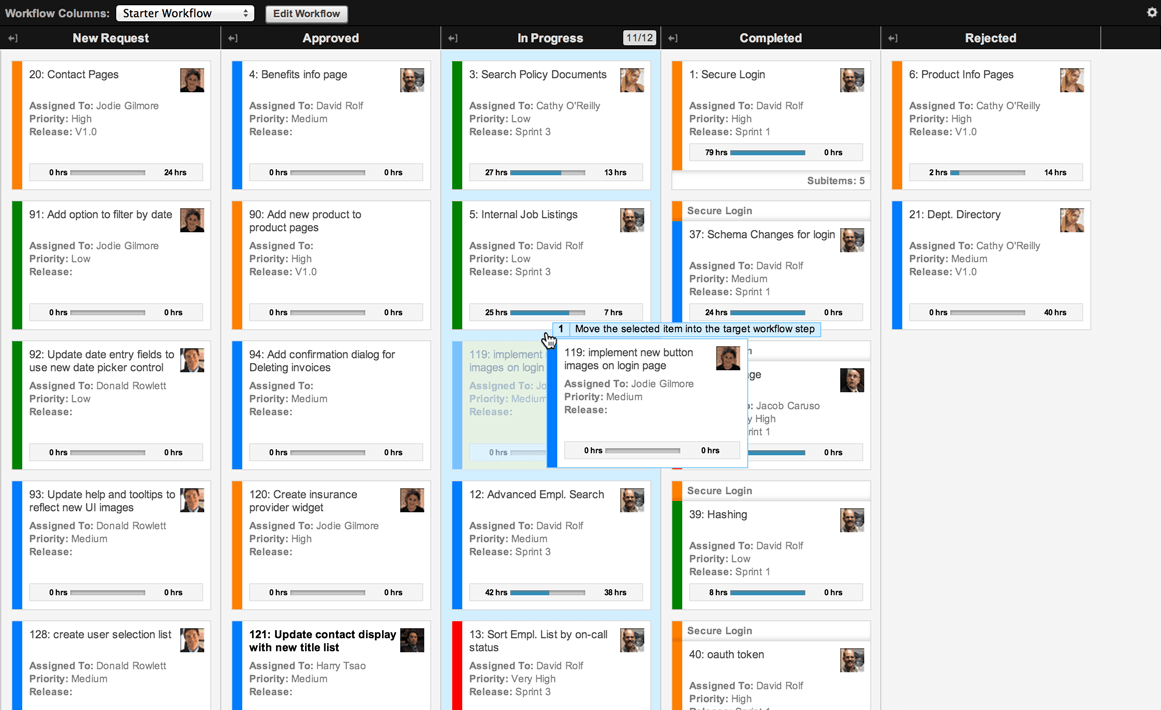 Know who's working on what
Keep the entire team informed, with communication that works for everyone.
Standup Mode
Prepare and organize your daily standups effortlessly. The Standup Mode shows total work assigned, how much work is remaining, how many hours users have logged, and current velocity. You can be sure you're not over-working some team members while under-utilizing others, and that work is proceeding on schedule. There's even a built-in timer to ensure your meeting runs at a good pace.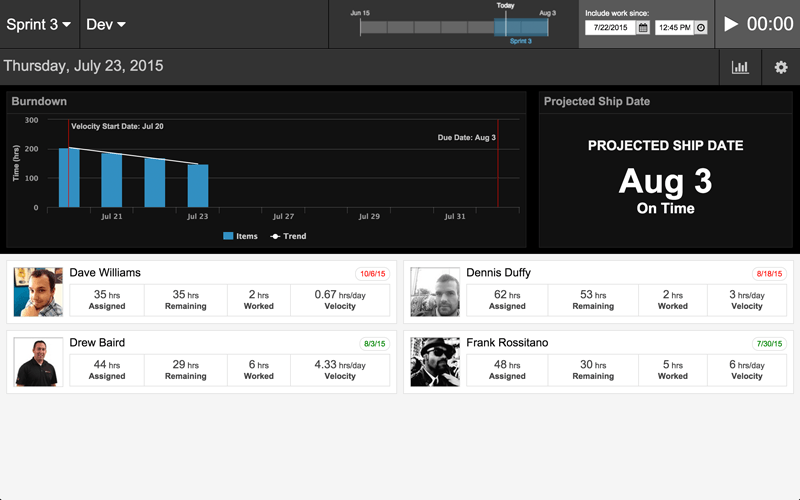 Dashboards
Generate custom dashboards to visualize your Axosoft item information, focusing on the data most relevant to your projects. Drag-and-drop gadgets into your dashboard, resize and relocate them to create a concise visual overview of your project's progress and projections. Then share with other team members. Our dashboards look great on a big screen!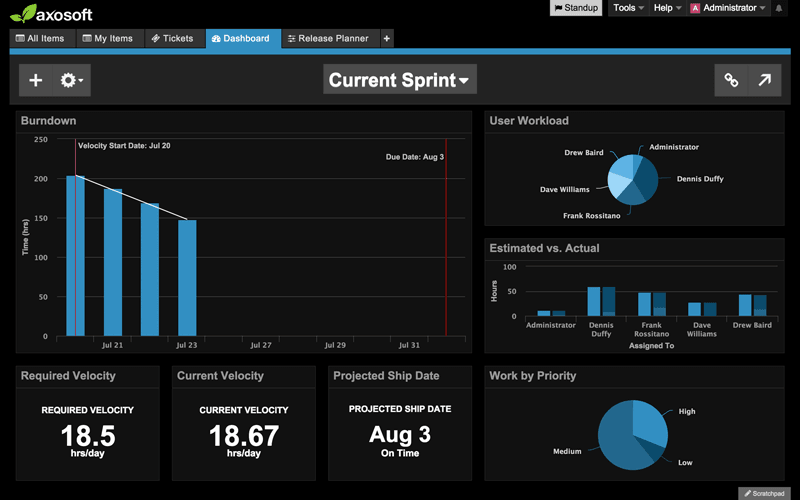 Supertabs and filters
Take the customization and scope of your Axosoft environment to the next level. Supertabs are an awesome way to manage your workspace, allowing you to focus on all or one specific item type, just your own assigned items, or whatever filter criteria you want—even the panel layout can be saved! Filters and Supertabs can also be shared with the rest of your team.
Notifications and alerts
Ensure your team members and customers never miss an important update. Automate email notifications when items are updated or conditions are met, or create filter-matched notifications to group into digests so neglected items don't fall through the cracks. You can even send your critical items via SMS (US only).
Axosoft Wiki
Project spaces can be cluttered places. Keep all your project discussions in one place. Use wiki pages to create any resource for your projects, such as brainstorming ideas, laying out coding guidelines, and providing tutorials, instead of trudging through emails.
Empower your own customers
Customer service features that bring out the very best in your support team.
Customer Portal
Dialog with your customers is vital to helping you target issues and improve your product. With the Customer Portal, you can quickly set up a customized, brandable environment for customers to create and edit tickets without them needing a full Axosoft account. Control how customers register, how you are notified, and even publicize wiki pages to assist and inform them.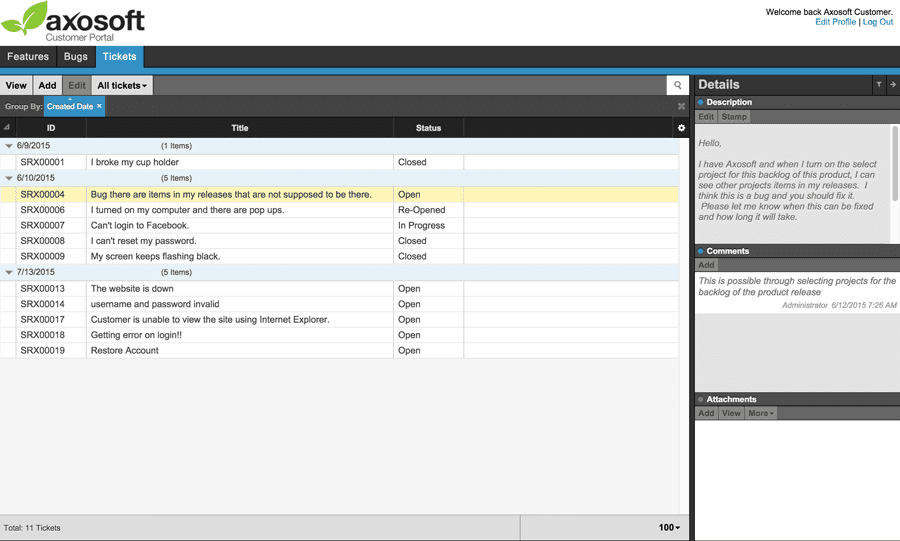 Axosoft Help Desk
Receive your support tickets directly in Axosoft as incidents, and reply in-app with robust email features like rich text and canned responses. Your support team can turn incidents into bug reports or feature requests, integrating them into your workflows.
External dashboards
Keep your stakeholders in the loop by sharing dashboards made specifically for them. Each dashboard has a private link that you can send to your chosen recipients, allowing you to share select stats but keep your internal data private to your team.
Integrate with other tools and services
Axosoft can connect to an ever-growing number of services and tools using our developer API. Integrations are maintained by both Axosoft and third parties, allowing you to hook into tools for source control, chat, test case management, and more. Find your favorite tools on our Integrations and Addons page.

We're with you, every step of the way
We're just like you—a company of passionate people developing kickass software. So we feel your pain! That's why our product experts will work with you to find the best solution and get it configured to your needs. Don't fret, our customer success team will work with you continuously to provide resources like Axosoft Premier and training webinars, and to ensure your success every step of the way.
Let's get started together