Keep your docs organized
Axosoft Wiki allows your dev team to create & share documents associated with your projects.
Keep all your development resources in one place with Axosoft Wiki. Coding guidelines, notes and knowledge bases can be posted to encourage commentary and team editing. Your team will increase its efficiency when essential, shared information is at their fingertips in Axosoft, the same place they organize projects and backlogs.
Integrate wiki documents with existing projects
Use project folders created with Axosoft Scrum, Bug Tracker or Help Desk to organize your wiki pages and incorporate key conversations with the right sprints and releases.
Your team can also easily access their group conversations with Wiki's dynamic table of contents that updates when new information is added, and built-in search.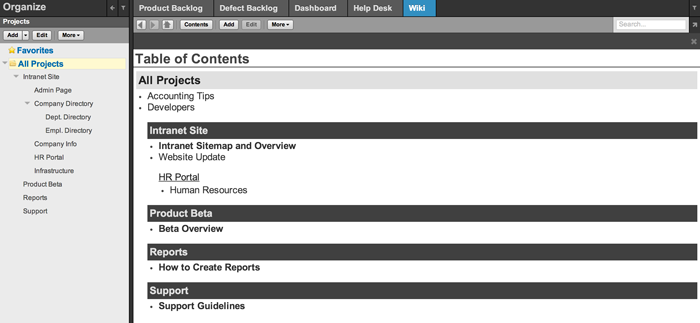 Encourage team editing and commentary
It's easy to create team rosters, brainstorming sheets and product roadmaps everyone can edit in Axosoft Wiki. Collaboration capabilities are heightened when key information has one location and many authors. In addition to these public documents, your team can also create wikis that are only viewable to select security roles, so certain groups can collaborate separately.
In some cases, your team may want to remark on a document without changing what's already written. That's why our commenting system allows teammates to discuss documents alongside the original content. Change histories for any wiki page are also available to view, so key information is never lost.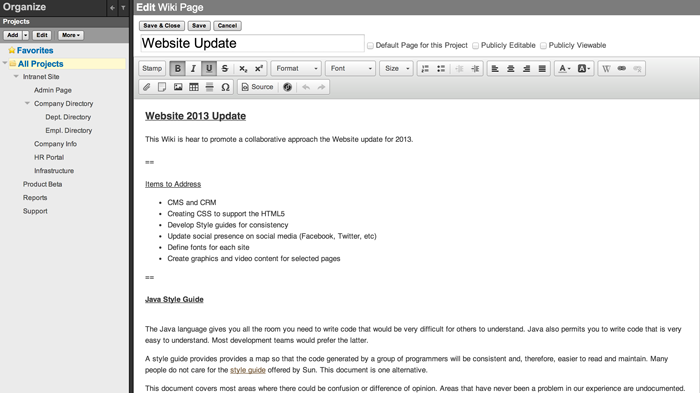 Set privileges and notifications for key users
To keep your collaborative efforts organized, security may be necessary to ensure only authorized users can see, edit and interact with wiki documents. It's also easy to setup email notifications for these users so they are alerted to wiki changes in real time.
With Axosoft Help Desk's Customer Portal feature, your team can also enable public visibility on certain documents that need to be shared with customers or clients.
Centralize your development resources
Nothing is worse than hunting for key information through your inbox, folders and shared file. That's why our wiki tool was made to enhance developer collaboration within your product and defect backlogs.