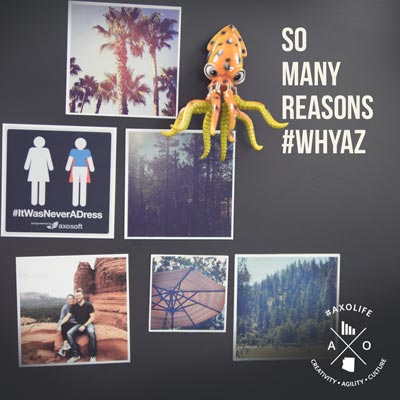 We're located in Arizona, a burgeoning tech oasis full of software developer jobs. Home to a multitude of tech companies and start-ups, we know we have a responsibility to help keep talent in the state and growth in the sector.
We frequently host meetups and codeathons for agile and developer groups at our offices, and partner with organizations with similar missions. It's part of our DNA to show startups that they too can succeed. Our doors are open and we share what we know. There's no secret to success, but there is hard work.
Diversity in tech? Yes please! We created the #ItWasNeverADress campaign, which went viral and was featured in news outlets across the world. We help keep the conversation about women in software engineer jobs and other STEAM fields alive by holding events and actively participating in a dialogue about how to solve the lack of diversity in the tech space.
We take risks and we iterate fiercely. We fail sometimes, but when we do, we do it quickly. It makes triumph swifter; it makes success sweeter.