Join our team
Find out what makes Axosoft a truly exciting, fun, and engaging team to join.
We embrace…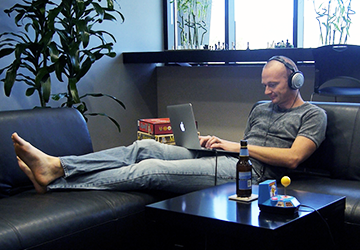 Your physical lifestyle – in-office workout gym, showers and zen room with full body massage chair
Your desire to expand your horizons – 3 weeks of personal time off and paid airfare on 1st and 5th year anniversaries
Your sense of style – there's no dress code and shoes are optional
Your inner warrior – nerf wars declared at any moment
We believe in…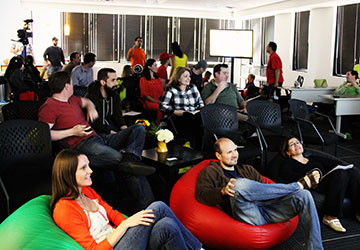 Using the best – we provide cutting-edge computer equipment
Your professional development – free conference attendance
Having access to everyone – in a collaborative, cubicle-less work environment
Connecting with the AZ tech scene – in-office events bring industry influencers to you
We unite with…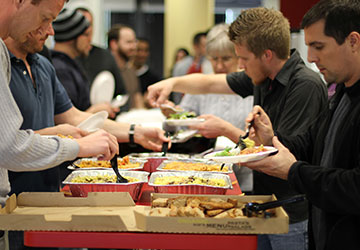 Team building events – from paintball to obstacle courses.
Camaraderie – a.k.a. pranks, hijinks and after-work activities
Gaming, lots and lots of gaming – online, Xbox and board games.
Your stomach – the fridge is always stocked, the soda machine is free, lunch is catered twice a week
Current openings
Axosoft is always ready to hire exceptionally talented, driven individuals. While we are always looking to improve the Axosoft team in all areas, we're keeping an eye out for applicants who specialize in the fields listed below. If you're ready for a fulfilling career with Axosoft, use the Apply Now link under each position to get started.
Software Engineer
What is the role?
This person will be responsible for writing code in a modern development language (such as C#) to enhance existing product lines or to create new products. The ideal candidate has a BS or MS in Computer Science, has an extreme interest in problem solving, experience with C#/.NET or Java as well as Database development (SQL), JavaScript, AJAX, HTML5 and CSS.
Who is Axosoft looking for to fill this role?
We are looking for candidates who possess the skills to achieve the above priorities. In addition and more importantly, we are looking for people who strive to improve everyday and have a passion for solving problems. If these values truly excite you then we look forward to you having join our family of like-minded people.
Web Developer & Designer
What is the role?
The web developer and designer will primarily be responsible for helping maintain and improve upon our product websites, including systems for lead acquisition, customer support, and more.
Who is Axosoft looking for to fill this role?
This person should have a passion for usability and performance, an eye for visual consistency, and a knack for simplifying complex ideas with a clean, beautiful design. The ideal candidate will have:
Extensive experience working with the latest in HTML5, CSS3, and especially Javascript
A thorough understanding of the latest trends and movements in web design
Experience working with modern webdev systems like Grunt.js, Handlebars, and more
Experience working with design tools like Photoshop, Illustrator, or Sketch
The following qualities are also helpful:
Bachelor's degree in a related field
Experience with product and website marketing
Experience with Wordpress development
Why is this role so critical to customer and company success?
Our product websites are the focal point in acquiring and serving our userbase. To that end, we strive to do the best we can to provide a web experience that is both reliable and delightful, and helps solve the needs of potential and current customers.
Inbound Marketer
What is the role?
We are looking for an entrepreneurially-minded Inbound Marketing Specialist with the skills to drive more traffic into our various funnels. Your role will own the strategy and execution of Google Adwords, search engine optimization, and content creation/distribution. It is a plus if you understand A/B testing, copywriting, HTML/CSS, Google Analytics, Photoshop and Infusionsoft.
Why is this role so critical to customer and company success?
From the team's perspective, you will be a core player in our creative process. At Axosoft we're open to the most original, off-the-wall ideas you can think of. We love people who want to try something different because they're hungry for growth and creativity! That's why it's crucial for us to find a passionate digital marketer who is excited to help take all of our awesome concepts from idea to fruition.