Software testing takes time. Much of this time is often spent writing bug reports for failed tests. Integrating Axosoft with TestLodge can save you and your team time by improving this process. TestLodge Test Management is an online test case management tool that allows you to store and manage test plans, test cases, requirements, and more. QA teams love using TestLodge because it helps them stay organized and ensure their testing process is smooth and documented with ease.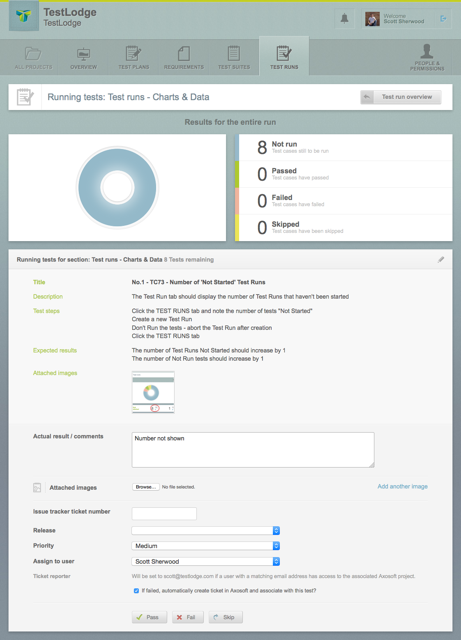 Axosoft integrates easily with TestLodge, allowing you to automatically create bug reports in Axosoft whenever a test fails in TestLodge. This leads to a more streamlined testing and bug reporting process and eliminates the time testers spend creating bug reports manually.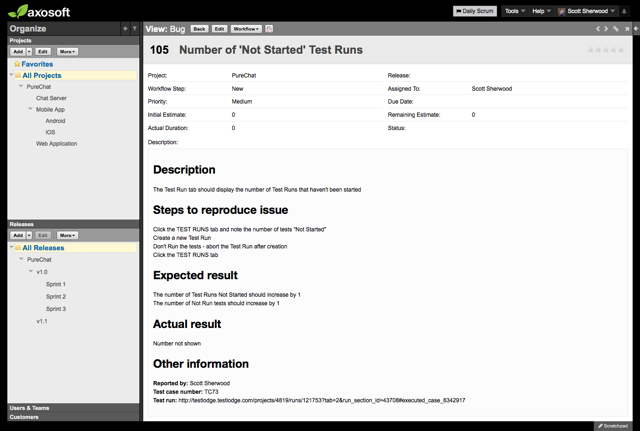 Setting up the integration is simple. First, you need to allow TestLodge to access your Axosoft account. Once you've permitted TestLodge to access your Axosoft account, you'll need to associate a TestLodge project with an Axosoft project.
Now when a test is marked as "failed" in TestLodge, a bug report will automatically be created in the Axosoft project, including relevant information such as steps to reproduce the bug, the expected result, and the actual result. You can select the Axosoft release, the priority, and assign a user to the bug directly from TestLodge. TestLodge will even set the reporter of the bug as the person who failed the test.
Learn more about setting up the integration in this short video:
As you can see, this integration provides instant communication of bugs and necessary information from your testers to your developers, which leads to a more efficient testing process. Once you've completed a round of testing and bugs have been fixed, you can then re-run all failed tests in TestLodge to verify the fixes.
By integrating these two products you'll add value to your testing and development teams in a number of ways:
Save time spent logging bugs manually.
Streamline communication by instantly sending failed tests as 'bugs' to Axosoft.
Synchronize
To learn more about TestLodge, check out this video or start a free 30-day trial of TestLodge to see how you can automatically create bug reports in Axosoft from TestLodge.
To see all the test case management, source control, live chat, and other tools that Axosoft integrates with, visit our integrations page.