What is Zapier?
Zapier is a powerful automation engine that connects with hundreds of applications. It's also a developer platform that allows you to create your own integrations if they're not supported out of the box.
Axosoft has been a part of the Zapier ecosystem for about 2 years! So, it seems appropriate to celebrate our 2nd anniversary with a public display of affection. The 2nd anniversary is traditionally cotton, so in honor of our favorite Zap ever, let's call it the 'velour' anniversary.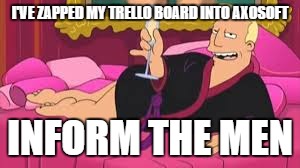 What is a Zap?
A Zapier integration is called a Zap. Even at its most basic level, a Zap can function as a simple-yet-powerful middleman between two services, but nonetheless, all of the possibilities can be a little overwhelming. So, I wanted to offer a popular Zap example: integrating your Trello board with your Axosoft account.
Axosoft + Trello Zaps
Axosoft is a great Scrum project management tool for your development team to manage your backlog, but if you have some team members that insist on a different platform like Trello, you'll need a way to have the two platforms communicate with each other to avoid task management becoming a cumbersome and inefficient process. Zapier allows you to butt your processes up against each other so you can disseminate tasks to devs on those other platforms.
Create Axosoft items from Trello cards
Imagine a distant land where a company is doing contract work, and the funnel of receiving requests consists of generating a statement of work, and then only sending the task to get worked on in Axosoft after payment is processed. All you'd need is a Trello board with a step called 'Send to Axosoft'. You'd then make a Zap so that any cards dropped into that step would create the item in any Axosoft Project you select, and would be ready for your devs to work on.
Oh, looky here… We have that Zap for you!
Or you can check out the Zap's page here.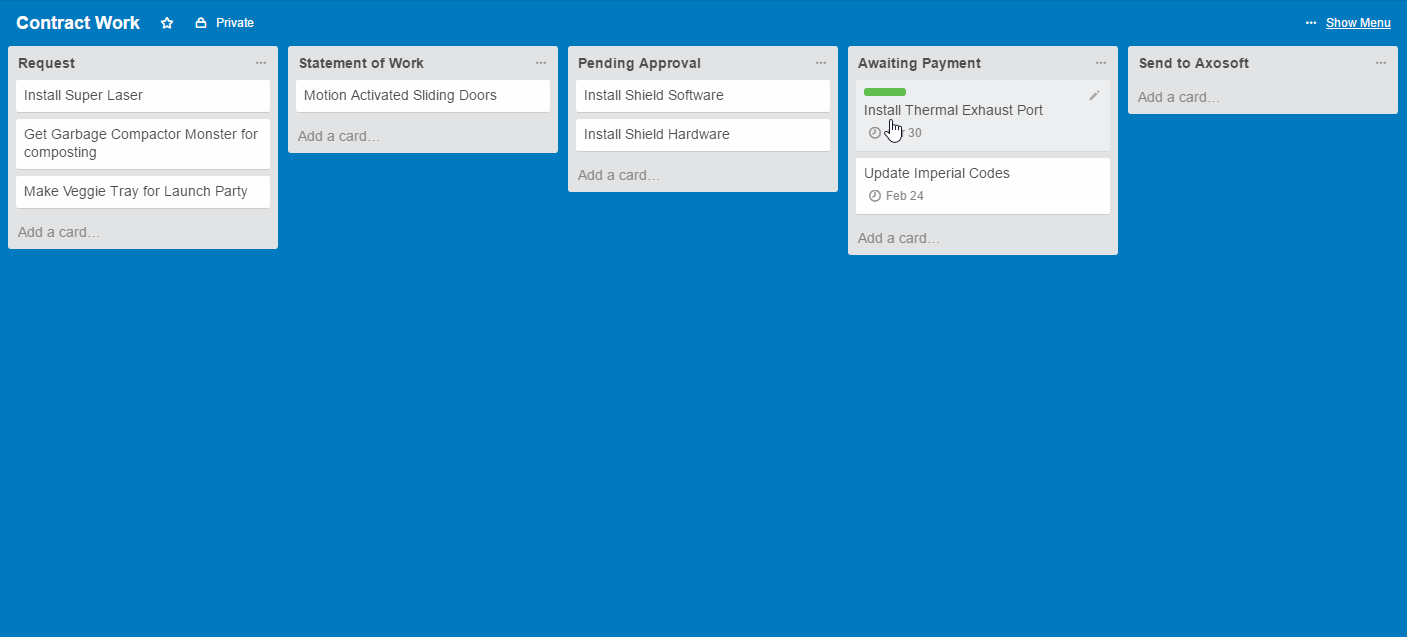 Create Trello cards from Axosoft
Of course, the reverse is also possible! But you want another example, right? Here goes: sometimes our Marketing team has to follow up with some of the changes in the product, in order to update our version history or documentation with new features. Zapping those over to a Trello board might be pretty handy.
You didn't think we'd have one for you and not the other, did you? Oh ye of little faith, here you go:
So, when your developers are done, err, developering, you can have items Zap over to a Trello board!
Start Zapping
If you feel inspired to start Zapping away, you can create a free Zapier account and get creative. You can also check out other cool and useful Axosoft integrations through Zapier in our Zapbook.
To see all the source control, live chat, test case management, and other tools that Axosoft integrates with, visit our integrations page.