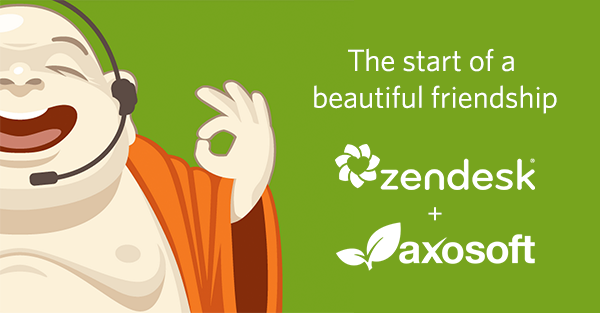 We're excited to announce the start of a beautiful new friendship with Zendesk! Axosoft integrates easily with Zendesk to seamlessly connect your support and development workflows.
We're hoping your first reaction is to go into a zen-like buddha position (see image above for reference) and soak in the awesomeness! But your second thought might be, why would Axosoft integrate with Zendesk? After all, Zendesk is a customer service and support ticketing software and so is Axosoft Help Desk. Well, here at Axosoft, we embrace diversity, even when it comes to integrating with competing help desk solutions. We realize that there are different solutions for different needs. Thus our new friendship with Zendesk opens the door for our customers who are using Zendesk as their Help Desk solution.
By integrating these two great products, you can quickly escalate Zendesk support tickets to user stories or bugs in your Axosoft backlog, and eliminate all the time your support and development teams spend duplicating items and communicating status reports. Automated workflow step actions take your productivity to the next level by eliminating the need to update the workflow status of a linked Zendesk ticket. You can even include a public or private message when the item's workflow status is updated. The two-way communication between Axosoft and Zendesk allows your support team, developers and project managers to clearly see how an item is progressing through development.
Bonus! You can keep overhead down by not having to purchase additional licenses for your support team to access Axosoft and your devs to access Zendesk because comments and status updates flow seamlessly between the two. It's easy then for support to respond to customers about the status and resolution of items without ever leaving Zendesk, and developers get all the details they need to resolve issues in Axosoft.
All-in-all by integrating your Zendesk and Axosoft accounts your whole team benefits:
Reduce time spent managing user stories and bugs.
Gain visibility into the status of tickets from inception to close.
Save money and keep communication flowing from customers, to support, to development and management.
We're excited to help Zendesk and Axosoft customers be even more successful! So if you don't have an Axosoft account yet, get started here!
If you already use Axosoft, learn more or enable Zendesk to get to work!
To see all the source control, live chat, test case management, and other tools that Axosoft integrates with, visit our integrations page.